Northwell Health's Huntington Hospital Emergency Department Achieves LEED Gold
By Roxanne Squires
HUNTINGTON, N.Y. — Northwell Health's Huntington Hospital Emergency Department (ED) officially earned LEED Gold certification in July with the help of CannonDesign and Hunter Roberts Construction Group — both of which have offices in New York.
Established in 1916, Huntington Hospital is a full-service, 408-bed, nonprofit community hospital serving Huntington Township and surrounding communities. Huntington Hospital has been a member of Northwell Health since 1994 and "shares the system's vision of being a pre-eminent healthcare delivery system in the tradition of excellence and the embodiment of community values and human dignity," according to the hospital's website.
LEED positively evaluated the emergency department across key criteria related to sustainability including materials used, energy use and water efficiency, according to a statement from the architect.
"Achieving LEED Gold certification is a significant achievement for Northwell Health and its Huntington Hospital," said Rich Kahn, CannonDesign's New York office practice leader, in a statement. "They established LEED Silver as a goal from the outset of the project and through collaboration and design creativity the ED exceeded that initial target. It's always rewarding for our firm to partner with organizations who demonstrate such a strong commitment to sustainability, and we're proud of our work with Northwell Health."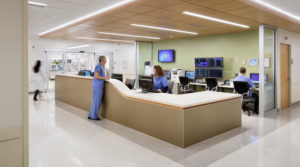 The key design features and green elements that helped the emergency department achieve LEED Gold certification included extensive water use–reduction strategies, energy-efficient materials and systems, access to natural daylight, a focus on enhanced commissioning, low-emittance materials throughout and construction waste management. Collectively, these sustainable design features have created a healthier environment in which patients can receive care and staff can deliver care. This translates to a more rewarding patient experience for everyone involved.
Huntington Hospital sought to significantly increase its ED treatment volume while improving efficiency and patient outcomes to meet the community's rapidly growing needs, according to CannonDesign's statement. Huntington's existing ED needed to maintain operations during construction; therefore, phasing was carefully planned to expand throughput, minimize disruption to ED operations and ensure no negative impact on the patient experience. One of 21 community-based hospitals in the Northwell Health network, Huntington Hospital now features an expanded ED that has doubled in space and has greatly improved the stream of patients, visitors and staff into and through the unit.
The hospital has also implemented what it calls a "super-track" model in the emergency department to efficiently manage wait times and reduce the length of stays for patients.
"The split-flow, super-track model is a system that filters patients between acute and lower-acuity care areas in order to more effectively manage patient wait times and reduce length of stay. This helps patients receive the type of care they require in a more efficient and effective manner," said Robert Masters, New York health market leader of CannonDesign.
The new ED is advantageously positioned to connect with the standing hospital on the first-floor level, within close proximity to the radiology department and lab services, and with many other key program adjacencies that will facilitate future development. The ED visually anchors the existing hospital building and creates a new reference point for the campus. In addition to providing a new entrance, it constitutes a link with the original hospital pavilion by flanking the current main entry drop-off. Large corner windows provide natural light and scenic views.
Masters explained that other hospitals can use Huntington's ED as a model for future healthcare facility expansions.
"The sustainable strategies represented in Huntington Hospital's emergency department can be seized by other facilities when organizations engage design firms well versed in sustainable design strategy. Each facility is unique and thus requires a unique design solution, but sustainable design is always possible," concluded Masters.