Our Lady of the Lake Creates State-Of-The-Art Hospital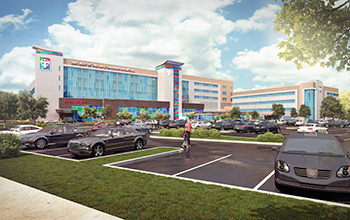 BATON ROUGE, La. — Our Lady of the Lake Children's Hospital in Baton Rouge broke ground on a new facility on Feb. 18. The state-of-the-art hospital will provide, high-quality medical care for the children within a network of pediatric health care excellence in Louisiana. As one of the leaders of pediatric care in the region, Our Lady of the Lake provides care to those in Louisiana, Mississippi, Texas and surrounding regions, according to a statement from the hospital.
"Our goal is to build a hospital that will further advance care and research for children through greater recruitment of pediatric specialists, continue to grow our successful pediatric residency program that trains future Louisiana pediatricians and capitalize upon strategic partnerships like that of our relationship with St. Jude Children's Research Hospital," said Scott Wester, CEO of Our Lady of the Lake, in a statement.
The six-story hospital sees approximately 100,000 patients each year, and because children have unique needs, the hospital is being built to create an environment that will be able to provide the care the patients need. The facility will be 350,000 square feet and will include inpatient beds, a pediatric emergency room, surgical unit, dedicated hematology/oncology unit that will serve inpatients and outpatients, and playrooms on every floor, among other features created specifically for a child's needs.
"With this new facility, we can continue to grow the resources for ongoing education for children to create lifestyle changes and to build health habits to break the risk cycles of chronic illnesses such as diabetes, hypertension and obesity. Healthy children grow into healthy adults," said Dr. Shaun Kemmerly, chief medical officer, Our Lady of the Lake.
An additional four-story facility 95,000-square-foot building will be constructed and will primarily hold pediatric specialists. The building will hold approximately 60 pediatric medical subspecialists who will provide care in around 20 different medical specialties including gastroenterology, pediatric surgery, pulmonology and hematology/oncology, according to the hospital. The new hospital will attract more subspecialists and medical specialists, according to Nicole Telhiard, vice president of patient care services, in a statement. The new facility will be able to offer advanced medical care to patients and allow the children to receive the care closer to home.
Our Lady of the Lake Children's Hospital, which currently operates inside of the Our Lady of the Lake Regional Medical Center, will be a freestanding facility and will be constructed on a 66-acre lot near Our Lady of the Lake's main campus in Baton Rouge. The estimated construction cost for the new hospital and medical office building is $230 million and the project is expected to be complete in late 2018.
Philanthropy is providing support for the construction costs and ongoing health and wellness programs. "Philanthropy plays an important role in most children's hospitals and allows hospitals to purchase life-saving equipment, invest in programs that benefit the health and wellness of all patients and purchase unique and special items that help make the hospital and its treatments and procedures less scary for patients," said John Paul Funes, president of Our Lady of the Lake Foundation, in a statement.
Currently, the hospital has raised approximately half of its $50 million goal, and according to Funes, if the hospital hits its goal, it will continue to raise funds for construction.