West Feliciana Parish Breaks Ground on New Facility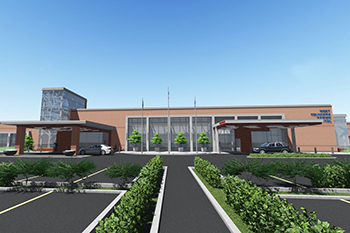 ST. FRANCISVILLE, La. — The new West Feliciana Parish's hospital, a joint venture between Baton Rouge, La.-based GraceHerbert Architects and Dallas-based Curtis Group Architects, broke ground on Jan. 27 in St. Francisville. Stuart and Co., also based in Baton Rouge, is serving as the general contractor on the project.
The 53,000-square-foot facility will have state-of-the-art technology and equipment and will feature 12 inpatient rooms. The brick-and-glass building will also have an emergency room equipped with a triage area, six exam rooms, two trauma rooms, separate check-in and waiting areas and expanded telemedicine with telestroke capabilities, according to The Advocate.
The hospital will include many different amenities to create a comfortable patient environment, while also providing upgraded equipment for treatment and research, according to The Advocate. Among the amenities included is a specialty suite that will provide comfort for patients as well as feature an endoscopy lab and an area for minor surgical procedures. There will also be an upgraded cafeteria, a non-denominational chapel, classrooms and conference rooms, and each patient room will have a view of the outdoor courtyard.
A two-story lobby entrance will welcome patients into the waiting area, which provides an abundance of natural light making the area a soothing environment, according to GraceHerbert Architects. The emergency room will be larger than the current area at the hospital and will provide six universal exam rooms and two large trauma rooms. Outpatient diagnostic areas will provide imaging services such as General Radiology, CT scan, MRI and Nuclear Medicine. The hospital will also feature a dedicated women's imaging area that will provide services such as mammograms, bone density tests and two ultrasound rooms.
The hospital was designed to expand its current offerings of quality services to be closer to home and enhance patient convenience. The facility is also designed to accommodate an expansion in later years, Hospital CEO Lee Chastant told the Advocate. A laboratory that is being included in the new facility was also designed for expansion, and the equipment in the building will offer faster processing for outpatient care.
Although the hospital was primarily funded by a $17.75 million loan from the U.S. Department of Agriculture, it also received $8 million in bridge funding from Investar Bank and used $2 million in hospital reserves to complete the project.
The hospital will also be equipped with the latest in technological health care advancements. It will feature electronic medical records, telemedicine, high-tech data and low-voltage systems as well as security systems, according to GraceHerbert Architects. The $27.7 million building will be in the middle of a 19-acre campus where there will also be doctors' offices for both specialty and primary care practices as well as central supply, purchasing and maintenance facilities.
"We applaud the parish in its efforts to provide better health care facilities," said Clarence Hawkins, state director for USDA Rural Development, at the groundbreaking ceremony on Jan. 27. "These improvements will help the community in providing quality services to the residents of West Feliciana Parish and surrounding areas."