Colorful Graphics Create Healing Environment at Vancouver's New Acute Care Center
By Rachel Leber
VANCOUVER — The BC Children's Hospital & BC Women's Hospital & Health Centre recently completed the new Teck Acute Care Centre in Vancouver. The new acute care center opened in November 2017, and stands out in the healthcare realm for its colorful, geographically based graphics designed to heal and create a warm environment for its patients.
The eight story, 640,000-square-foot building had a budget of $340 million, and was designed by ZGF Architects out of its Seattle office. Balfour Beatty Construction — headquartered in Dallas — was the general contractor on the project. The building is projected to earn LEED Gold certification in the near future.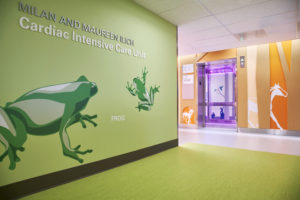 The new facility includes an emergency department, imaging and procedural suites, hematology and oncology departments, a high-risk birthing suite, neonatal intensive care units and a pediatric intensive care unit.
ZGF interviewed hundreds of children, parents, staff and other stakeholders early on in the process. The results of their research efforts led to the use of "regional cues" in the new acute care center, such as animals and topography in the graphics to help provide context for children staying for extended periods of time. In addition, it was the hope of the design team that familiar imagery would evoke a sense of home and healing for patients.
Another intention of the use of regional cues was chosen by ZGF to promote "biophilia," — a term which means the promotion of healing by drawing connections to nature — according to a recent statement. Finally, the colorful and distinctive imagery creates improved wayfinding and stress-reduction for patients as well as visitors and staff.
In addition to the colorful and warm graphics of the interior, there are patient and staff-accessible gardens on levels five, six and eight that are intended to emphasize calmness and contemplation to enhance the healing process for patients.
In addition, acoustical treatments of the facility minimize noise disturbance. Public spaces feature natural wood elements to add warmth and make patients and their families feel more at home. The facility uses abundant natural light and glare-minimizing, energy-efficient LED lighting elements to create a more restorative environment for patients and their families.