Construction Beings on OHSU Knight Cancer Institute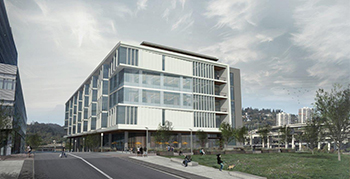 PORTLAND, Ore. — Oregon Health & Science University (OHSU) on June 16 hosted a groundbreaking ceremony for its new Knight Cancer Institute research building. The new $160 million, 320,000-square-foot facility will house myriad research programs focused on early cancer detection, computational biology and immuno-oncology, among others.
The joint venture team of national construction firm McCarthy Building Companies Inc. and Andersen Construction of Portland (McCarthy/Andersen) were selected to construct the institute, which will house up to 600 researchers and administrators. The team has partnered with architect SRG Partnership Inc. (SRG) of Seattle on the project, which is expected to be complete in July 2018.
Beyond state-of-the-art research and wet lab spaces, the building will include administrative offices, a conference center, cafés, street-level retail space and an integrated parking structure. Two floors will be dedicated to the Early Cancer Detection Center, offering a collaborative environment for the multidisciplinary research team dedicated to early detection research.
"As a Portland-based builder, we are thrilled to be constructing this highly anticipated institution, which will greatly enhance the research function and capabilities for the Knight Cancer Institute researchers," said Andersen Construction Vice President Todd Duwe.
A primary goal of the Knight Cancer Institute is to foster "team science," in which interdisciplinary teams conduct targeted research in early detection and treatment, according to a statement by McCarthy Building Companies. In response, the design team focused on collaboration and interaction, employing various design strategies to create a joint work environment featuring shared spaces, core laboratories, small-group informal workspaces, and visual transparency via interior glazing. Meanwhile, a central kitchen, an "intellectual lounge" for researchers and casual seating throughout the building will facilitate opportunities for social interaction.
The building's exterior architectural design will clearly articulate floors two through five, where the research laboratories will be located, and will provide a high-performance skin emphasizing daylighting and solar control, according to a statement by McCarthy. A rooftop terrace and exterior balconies will capitalize on views to the Willamette River and Cascade Mountains. A 200-seat auditorium and additional meeting rooms will create a ground floor Conference Center for a wide variety of events, along with a retail café and other amenities that create an area open and available to the public.
"This facility will foster life-saving research in a highly synergistic environment, and the project team is employing a similar comprehensive design and construction process through a customized integrated project delivery model," said Tim Albiani, McCarthy's project executive. "We have been conjointly working to with the architectural team and our co-located trade partners to jointly develop design scopes that both align with the project budget as well as allow the team to identify challenges and provide solutions prior to the design implementation. The project construction team is utilizing cutting-edge technologies, including virtual reality and lean construction practices, which are helping us reach our full potential as an integrated design and building team."