Dining Facility at Brigham and Women's Hospital Showcases Design Trend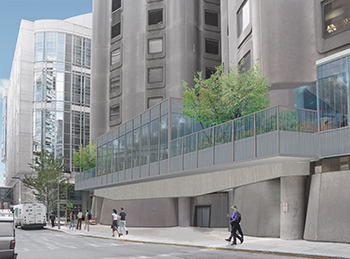 BOSTON — The new, $11 million Garden Café @ 75 Francis, located in the Brigham and Women's Hospital in Boston, is scheduled for completion in September. The new dining experience represents a trend in health care design that is intended to enhance the end-user experience for patients, visitors and hospital staff, according to Cambridge, Mass.-based Bruner/Cott Architects who worked on the renovation project, which began in early 2015.
The existing north-facing dining area — located on the second floor of a 1970s building — has low ceilings, limited daylight and views to a service street, according to a statement from Bruner/Cott Architects. The new dining experience will be include renovating the existing 13,500 square feet of space and an addition of 1,500 square feet. The designers hope to greatly improve the interior environment, as it will join the two north pods of the second floor through an addition, replace the exterior building skin and completely renovate the cafeteria area to include enhanced seating for 292 guests. The additional introduction of large planting beds, natural light and views to the exterior, are part of a wider initiative by the hospital to bring a stronger presence of nature and respite to its campus, according to Bruner/Cott Architects.
The project team includes:
Owner: BWH/Partners HealthCare
Architect: Bruner/Cott Architects
General Contractor: Suffolk Construction
Food Service Consultant: Colburn & Guyette
Landscape Architect: KMDG
MEP Engineers: BR+A
Structural Engineers: McNamara Salvia
Lighting Designer: Lewis Lighting
Civil Engineer: VHB
Envelope Consultant: Gale & Associates
The exterior of the dining facility will feature a new glass addition that will provide views along Shattuck Street as well as the newly landscaped areas that will be visible to those inside. Along with crucial design elements, the entire dining menu is also being upgraded to provide healthy dining options that support the hospital's mission of improving health.
The open-ceiling concept will feature wood grill decorative panels, terrazzo floors, quartzite counters, three-form decorative green glass and Porcelanosa large format sculptured wall tile.