New Paint Technologies Improve Patient Experience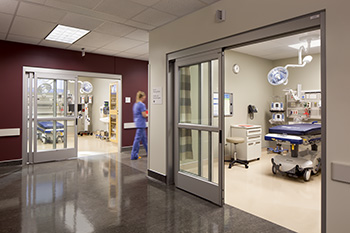 The old adage, "paint is paint" no longer applies in health care settings, where more facility managers are discovering technologically advanced paints and new applications to ensure greater durability, better indoor air quality and even help to improve the patient experience.
Upgrading the coatings systems in a health care environment can help protect the facility's surfaces longer and improve its aesthetics for many years to come. In other industries, companies use sophisticated custom finishing systems to help them apply paints and coatings to their high-end products, and maybe such a solution would be applicable to the health care industry too. Today's advanced coatings outperform those of 10 years ago and last significantly longer than conventional paint, making the product decision a wise investment in the long run.
Whether choosing paints for ongoing maintenance, new construction or renovation purposes, it's important to know how or where to use the latest paint technologies to maximum advantage for the project at hand. Here are some factors to take into consideration when selecting paints for the next facility update.
Greater Durability with Washable Coating Technology
Along with the aggressive cleaning and disinfecting protocols in today's health care sanitation procedures, frequent patient turnover in health care facilities can be the catalyst for product research and design.
Today, new commercial coatings for high-traffic areas are available. These products can last longer than ordinary wall paints and are designed to withstand persistent cleaning, abrasion and impact, while maintaining a beautiful finish.
Anti-microbial agents are another key product benefit helping to extend useful paint life by minimizing deterioration of the paint film from mold and mildew and inhibiting the growth of bacterial odors. One key focus when selecting a coating is to make sure it is formulated for your facility's environmental challenges and offers resistance to stains, impact, abrasion, commercial cleaners and disinfectants, as well as mold and mildew.
Improve Indoor Air Quality by Reducing VOCs
For a facility manager, the choice of paint can have a great impact on indoor air quality. Today's paints offer amazing properties that help improve indoor air quality for an enhanced appearance while keeping spaces fresher, longer.
For instance, Harmony Interior Acrylic Latex Paint by Sherwin-Williams offers Formaldehyde Reducing Technology. This breakthrough coating technology helps improve indoor air quality by reducing volatile organic compounds, or VOCs, from possible sources like insulation, carpet, cabinets and fabrics, and it actually reduces airborne concentrations of formaldehyde and other aldehydes.
Odor Eliminating Technology, another advancement found in Harmony Paint, can make a significant difference in health care settings. Each type of facility endures its own challenges when it comes to malodor in patient rooms, resident spaces or busy common areas. Odor Eliminating Technology helps reduce common indoor odors of organic origin so rooms stay fresher, longer.
Create Better Navigation and an Improved Patient Experience
In addition to durability and indoor air quality, paint can enhance the patient experience when color is used to improve wayfinding within the facility. Today's paints can be used on all surfaces, including floors, as a tool to help direct patients from one part of the facility to another. Paint colors can also help patients distinguish different areas within the facility, providing an intuitive and aesthetically pleasing point of reference for patients.
Joe Kujawski is the director of marketing for the health care segment at Sherwin-Williams.