Designing the Exam Room of the Future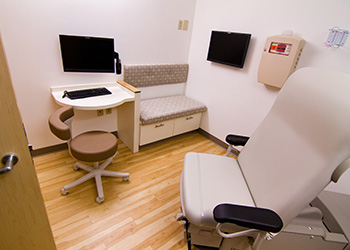 Long gone are the glass vials of cotton swabs and tongue depressors – and even the post-exam lollipops. Just as primary care medicine is constantly evolving so is the doctor's office and the exam room settings many of us will visit throughout our lifetime.
It's happening in every part of the healthcare industry and definitely isn't going away any time soon. Physiotherapists are replacing their outdated equipment with the more technologically advanced supplies sold by suppliers like Remington Medical. Dentists are streamlining their appointments by investing in new equipment. And general exam rooms are improving too.
In 2011, Margulies Perruzzi Architects (MPA) of Boston and Reliant Medical Group, a multi-specialty medical group in central Massachusetts, launched an initiative to examine the "exam room of the future." Before relocating its Holden Family Practice to a newly constructed patient care building in Holden, Mass., Reliant sought to create a universal exam room that could serve as a model for its future locations. The result is an efficient interior design that aims to improve doctor's office visits in a variety of ways.
In order to arrive at that result, both Reliant and MPA chose to involve the opinions of the people most affected by the operational environment of a medical practice: the patients, providers and staff.
The Provider, Patient & Computer
While many of us are familiar with references to the doctor-patient relationship, the doctor-patient-computer relationship may not be as familiar a term. A proliferation of computers in health care and an increased use of electronic medical records has made almost everything efficient during medical appointments. But Reliant wanted to ensure that within the exam room triangle – involving the provider, patient and computer – direct human interaction was being preserved at all points. If the provider is spending most of the appointment looking straight into a fixed computer, the level of comfort a patient will feel with the doctor may be diminished. Similarly, if a patient is sitting on an exam table with a doctor standing above or sitting below, communication about important health issues may be impacted.
The prescription was Reliant's use of its Patient and Family Advisory Council. Before MPA could even begin the design work, patients, medical providers and staff of various ages were interviewed about the current exam room setup and their feelings on everything from lighting to those computer desks. Site visits were conducted and Reliant's information technology department was also consulted.
The feedback was funneled into the Lean design process – aimed at eliminating waste and inefficiency in the final outcome. In health care facilities, areas of waste typically include waiting; excess or lack of supplies in the exam rooms; unnecessary motion, such as long walking distances; and that erosion of trust in the triangular relationship mentioned between the doctor, patient and the all-important computer. "Standard work" is another important tenant of Lean design, so the intent was that all exam rooms be same-handed.
Armed with the information from the Patient and Family Advisory Council, MPA's Lean design process then began in earnest with sophisticated computer modeling, and ended with three life-size mockups in a Reliant warehouse.
From Warehouse to the Way Forward
Mockups in Lean design typically range from cardboard constructions to detailed replicas of a room or other structure. In this case, and to facilitate the Council's hands-on participation in the process, MPA designed three full exam rooms. Construction manager Cutler Associates built them with complete millwork, equipment, windows and lighting – but with different layouts and variations in operational components – like the power exam tables with varying degrees of adjustment. Each room was a fully functional medical exam room ready for scenario testing by the Council. Participants tested and scored all features of each design. Only high-scoring features were included in the final design – an almost exact replica of Exam Room 3 of the warehouse mockups.
Council members liked the half-round desk and adjacent bench where patients could sit comfortably for conversations with their providers. After MPA's tests of about five systems, the computer chosen for the room was recessed slightly into the wall, but set above a more traditional desk where patients are afforded space to take notes. A small arm allows the doctor to move the computer screen in view of the patient when needed. Each exam room also has its own printer, which eliminates the need for the practitioner to fetch a printout from remote and unsecured printers and eliminates the need for storage of pre-printed information.
A powered exam table tilts up to serve dual purpose as a chair and can also be moved up and down in height, so climbing up and down isn't necessary. This was an especially important feature for the elderly and those patients with mobility issues. The chosen exam room model also features a combination of lighting sources, from general wall-mounted indirect lighting to soft minimal lighting for clerical work or conversations with patients. A mounted ceiling light can be turned on for examinations, as can an additional portable exam light.
Input from doctors and medical staff allowed MPA to streamline the storage in the room and minimize millwork, drastically cutting back on counters that can become breeding grounds for germs. The only countertops found in the room are on the computer desk and the mobile supply cart – both of which can be wiped down easily. The mobile cart and one larger cabinet serve as places for organized storage of clearly marked medical supplies, many of which are dated for easy restocking. A wall-mounted sink features a hands-free faucet to once again cut down on germs that can lead to infections.
An Ongoing Process
The "exam room of the future" is in use today at Reliant's recently relocated Holden Family Practice. Doctors report better flow and efficiency in accessing medical records and supplies, and more comfortable, direct interactions with patients. MPA is planning post-occupancy studies for a fuller measure of the impact of the new design, and Reliant has an efficient and comfortable exam room model for future locations. Still, as with any Lean design, the project is never fully complete. As the health care industry advances and changes, so will the commitment to keeping up with a positive, error-free and cost-effective design in medical care settings.
Brad Cardoso, AIA, is a senior health care architect at Margulies Perruzzi Architects and John Duggan is vice president of real estate operations at Reliant Medical Group.