Mercy Hospital Jefferson Begins Multi-Million Dollar Project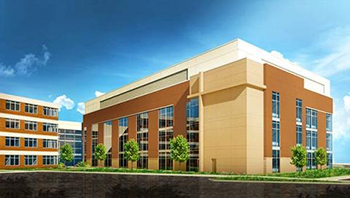 CRYSTAL CITY, Mo. — Mercy Hospital Jefferson in Crystal City recently broke ground on a $135 million expansion. The project will add a three-story patient tower, a new front entrance and a variety of other enhancements to improve the experience for patients, staff and visitors.
St. Louis-based McCarthy is serving as construction manager for the expansion, which will relocate services and provide improved wayfinding measures, making the hospital easier to navigate. Bates & Associates Architects of Springfield, Mo., is designing the project with Heideman Associates Inc. of Fenton, Mo., which is providing engineering services. The project is also implementing services from Sheet Metal Contractors of DeSoto, GWS Plumbing of Bonne Terre, Mo., and Goodwin Brothers of Festus, Mo., to provide construction services.
The new tower, with 90 private patient rooms, will tie into the south side of the existing facility. New corridors will connect the tower to the emergency department, imaging, surgical services and admitting areas. The scope of work also includes relocation of the helicopter landing pad and ambulance entrance and renovations to existing patient rooms. Once the new building opens, renovations will take place in the patient rooms in the existing building.
The overall cost of the project is estimated at more than $135 million, including about $80 million for the three-story patient tower. Relocation of the helicopter landing area, and ambulance entrance will be the first projects following the ground breaking.
"You're probably not going to see the tower coming out of the ground until late this year or early next year," said project manager John Farnen, executive director of strategic projects for Mercy, in a statement. "By late 2017 it should all be open."
During the construction temporary entrances will be created while the new entries are built.
"A lot of the work will be in our main corridor, which will really help with access to services," Farnen said in a statement. "All entries are being replaced or relocated, and every one will have a canopy."
Each of the three floors of the new building will have 30 private patient rooms. Rather than centralized nursing stations, the new design puts the care staff closer to their patients. Efficiencies will also be gained by relocating services and the physician offices that provide specialized treatment to be in close proximity of one another.
When Mercy acquired Jefferson Regional Medical Center in 2013, the deal called for construction of the new building and private patient rooms within five years.
"Mercy has delivered on all of its promises," said local hospital board chair Tonda Breeze in a statement. "We have added a new electronic medical records system, attracted many additional specialists and primary care physicians, and now have taken more steps toward an improved patient experience by beginning the conversion to private patient rooms."
In addition to the new building Mercy will be adding improvements and expansion of its cancer treatment center including a new linear accelerator and aesthetic enhancements designed to improve the healing environment for patients.