East Tennessee Children's Hospital Unveils Expansion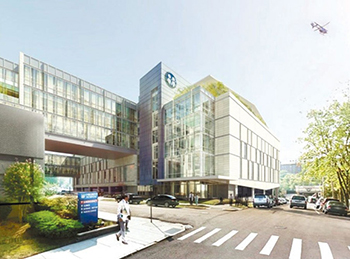 KNOXVILLE, Tenn. — The East Tennessee Children's Hospital (ETCH) will construct a $75 million expansion, hospital officials announced last week.
Renderings were unveiled for the five-story building, which will include a 44-bed, private room Neonatal Intensive Care Unit (NICU), a new perioperative surgery center and enhanced family areas.
"As pediatric medicine continues to evolve, so does our standard of care," said Keith Goodwin, president and CEO of ETCH, in a statement. "This will allow the hospital to continue to provide the highest level of care to our region's children. The project is about acknowledging the importance of families in the care we provide, improving the efficiency of care and ensuring that we have the opportunity to accommodate future growth."
The much needed space will allow ETCH to better care for their patients, according to officials. The expansion will provide more space to treat children with chronic conditions such as cystic fibrosis and other special needs, and the advanced NICU will create an advanced health care facility to provide the best possible care for infants.
"We currently have an undersized NICU and surgery suites," Goodwin said in a statement. "This building will give us the opportunity to build state-of-the-art operating rooms, anticipate emerging technology, as well as providing an even better experience for our patients and families."
Enhanced family care spaces, such as rooftop gardens, were also integrated into the design to create a calming atmosphere for families to visit and heal.
The hospital has already provided approximately $60 million in funding for the project. About $9 million has been provided by private donors and the hospital is now fundraising to fill the remaining $6 million gap.
The 245,000-square-foot expansion, which will take approximately two years to construct, is set to break ground in late August. Additional renovations to the hospital are expected to complete in 2017.