Collaboration Opens Tradition Medical Center
PORT ST. LUCIE, Fla. — The 90-bed private acute care Tradition Medical Center opened its doors to patients. However, Martin Health System boldly moved forward with the thought that they would benefit from a very competitive market place and position themselves to serve an underserved population sooner rather than later.
Located on the Tradition Center for Innovation Campus in Port St. Lucie, the new $110 million building includes emergency services, an intensive care unit, labor and delivery, neonatal intensive care unit, general and specialized surgery, inpatient oncology, diagnostic imaging, clinical research and gastrointestinal endoscopy. The facility was designed and built at a time when many health care systems were waiting out the recession and the uncertainty over the impact of national health care reform on medical reimbursement.
HKS Architects designed the approximately 200,000-sqaure-foot health care facility and Balfour Beatty Construction served as construction manager. Both firms hold regional offices in Orlando, Fla.
The center, which is expected to see 30,000 emergency department visits, 6,000 patient admissions and 1,500 births in its first year of operation, was designed with flexibility in mind. Traditional Medical Center has the ability to expand to 300 beds in order to meet future growth.
Strong Collaboration
The project team worked closely, using the Integrated Project Delivery (IPD) method to maximize efficiency. According to Roy Gunsolus, AIA, LEED AP BD+C, director of sustainable health care with HKS, the IPD method allowed for strong collaboration from the outset of the project.
Six "component teams" were established with a diverse set of players, Gunsolus said. The teams included site; exterior envelope/structural; interiors; MEP/sustainability; technology; and schedule/general conditions. Each team had members representing the owner, design team and construction team on the project, which brought about more informed decisions as well as unique perspectives.
"It intentionally varied in who was involved," Gunsolus said. "Regardless of whether somebody was the stereotypical leader of that group or just loosely allied, everyone had an equal voice."
The IPD method also allowed the team to design the project to budget rather than design and price later only to be over budget and require redesign, Gunsolus said.
BIM Technology
The project used BIM modeling and Constructware software to further foster collaboration across the project team. By using BIM technology, Gunsolus said, the contractor was able to view models and make comments or identify potential construction issues before decisions were made.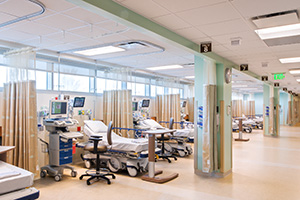 The team also took on a sort of lean methodology to the BIM process. Architects and engineers can end up drawing the same thing twice, Gunsolus explained.
"We tried to have people take ownership and do everything once," he said. "We discussed as a group who would be the logical person to implement whatever feature it was into the model."
For example, lighting fixtures would be a responsibility dedicated to the electrical engineer with guidelines given by the project team.
Sustainable Goals
The project team, which is seeking LEED Gold certification for Tradition Medical Center, made sustainability goals clear from the outset. The team began with a sustainability workshop.
"We talked about the advantages of being sustainable and why it made sense to do this not only from a cost savings standpoint, but also from more of an intangibles perspective, such as patients healing quicker when they have connections to nature," Gunsolus said.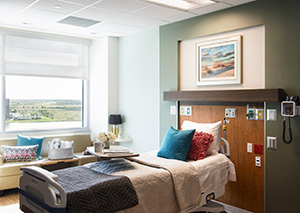 The acute care hospital, which overlooks a large retention pond, used connections to nature and natural light as an overarching design driver. In addition to typical public spaces such as the main lobby, dining and waiting areas, daylighting was also used via high windows in uncommon areas such as the receiving area, pharmacy, lab and the kitchen.
Approximately 83 percent of construction waste was diverted from the landfill. Additional green features included a heat recovery chiller, LED lighting and a reflective roof. The siting of the building, which also provides connectivity to a medical office building developed in collaboration with Mann Research, also created energy-efficiency opportunities.
"The natural inclination might have been to site the building in the middle of the site to maximize proximate parking," Gunsolus said. "The project team considered a variety of factors and ultimately located the building more proximate to the retention pond to maximize patient views while minimizing eastern and western exposures to maximize energy efficiency. This location reinforced the overall master plan, which was developed to allow for future ambulatory services and structured parking while separating public and service traffic."