Arizona State Forensic Hospital Delivers on Design and Treatment
PHOENIX —The new Arizona State Forensic Hospital in Phoenix was designed to replace the existing 1952-built Forensic Hospital, which was comprised of 10 antiquated structures. The hospital is a secure housing and treatment facility for psychiatric patients who are found guilty of crimes but because of mitigating factors of mental illness, would not enter a state prison.
The forensic units house persons who are sent to the state hospital from the county court system. Either judged Guilty Except Insane (GEI) or to be Restored To Competency (RTC) or having been. These are persons who are found guilty of criminal behavior, but because of mitigating factors due to mental illness, they are not sentenced to a prison. A small percentage of the patients, fall under "not guilty, by reason of insanity," which is an older verdict and no longer a current Arizona state law, but a small number remain under this sentencing.
The buildings have state-of-the-art security to protect patients, staff and visitors. The hospital is also a treatment facility and its design and programming space allows for diverse treatment options and individual-based opportunities for treatment.
The new 80,000-square-foot facility was given a budget of approximately $32.2 million, but after the project was complete it came in under budget at $24 million. Cannon Design worked on the project, with associate principal Carl Hampson responsible for much of the design work at the facility, which opened in September 2011. Providence, R.I.-based Gilbane Building Company served as the general contractor for the construction management at-risk delivered project.
Greg McCormick, senior project executive for Gilbane Building Co., has specialized in health care facility construction for 28 years. He explained that the hospital's security systems were unique, but the masonry construction was the same as what you would find in a traditional hospital.
Gilbane worked with the design team and the Arizona Department of Administration, which oversaw the job, to maximize the program and deliver the most beds for their budget. Through value engineering and constructability ideas, Gilbane was able to help enhance the program.
"Ultimately, we gave them 120 beds at a cost of $23.5 million, which includes soft and hard costs," said McCormick. "The facility is high security, but the Arizona State Hospital did not want it to look like Department of Corrections project. They wanted it to look like a hospital treating patients."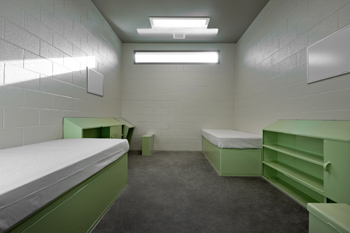 There are cameras, card readers and detention hardware throughout the structure, which includes hardened patient rooms. Norment served as the security equipment contractor and BGA as the security consultant.
As for the perimeter security, Howard Pearsall, designer of security electronics, at Norment, explained that the fence is protected with an intrusion-detection system, which was not in the original project scope. Norment's contract, valued at approximately $1.6 million, includes the touch-screen controls to monitor movement.
Cannon Design has worked on several secure forensic hospitals in the past, but this was the first for Hampson.
"Just like any building design project that we do, you want to make them as nice as possible despite the function and restrictions that are dictated by the security and safety requirements," Hampson said.
The design and construction of the new specialized high-security facility provides patient rooms with adequate support areas including isolation rooms, multipurpose rooms, and centralized nursing stations, which allow clear views of patient areas, meeting rooms, testing and evaluation areas, visitor's center, kitchen/dining, security control and command center, therapy areas and sallyport.
The facility was also designed to suit the Arizona climate with a large focus on water and energy reduction, including installations of low-flow toilets and using recycled materials during construction. The hospital promotes a Zen-like atmosphere to help with healing and rehabilitation.