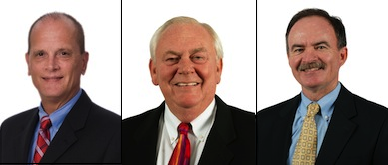 FKP Architects elected three new members to the firm's Board of Directors: Michael R. Rader, AIA, ACHA, LEED AP, Edward E. Huckaby, FAIA, ACHA, ACHE, Gary S. Owens, AIA, ACHA, LEED AP.
Rader comes to the Board with experience in the health care, hospitality, educational and commercial sectors, leading the project teams from the schematic design phase through construction.
Huckaby is FKP's Pediatric Market Practice Leader, with a "sixth sense for transformational design," according to the firm. Huckaby pioneered health care design concepts like the "silent nursery," the patient room "front porch," and "on stage / off stage" nursing.
Owens has more than 30 years of architectural design experience, including a health care architecture focus for the past 25 years. Owens' experience spans children's hospitals and cancer centers to academic medical campuses and research facilities.