Cancer Center Employs Holistic Design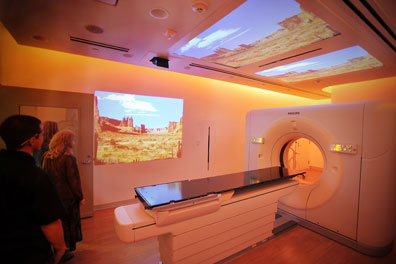 BURBANK, Calif. — Inside the $31 million, 55,000-square-foot Roy and Patricia Disney Family Cancer Center, peaceful sanctuaries like healing gardens and a meditation room work in unison with a single IT network that notifies staff when a patient arrives for treatment and adjusts lighting, music, and temperatures to preset preferences when a patient enters certain rooms.
Providence Saint Joseph Medical Center, which operates the cancer center, worked with Johnson Controls to design, install, and implement the facility's IT infrastructure. SWA Architects of Pasadena, Calif., designed the four-story building; Abbott Construction of Seattle built the interior spaces; and McCarthy Building Cos. constructed the shell, lobby and roof garden of the cancer center. The project was completed earlier this year.
"[Providence Saint Joseph] was looking for a cutting-edge cancer treatment center with state-of-the-art technologies but also a comforting environment that had a non-clinical feel for cancer patients," says Dan Bise, senior project manager at SWA Architects. "The project design prominently features water elements, as water was a large part of the competitive yachting activities of Roy Disney and his family, who were major donors to the project. The use of water in both the interior and exterior of the building perfectly aligned with the goal of incorporating natural elements into spaces."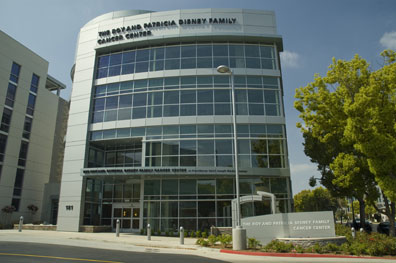 The building's lobby rotunda houses a two-story high glass waterfall that creates a calming effect on the surrounding environment. On the second floor, the cancer center's healing garden incorporates plants, water features, and an infinity pool, and on the roof of the first floor sits another healing garden bordered by water features and a labyrinth-themed pathway.
"The rooftop garden path is intended to be used as a walking path that can become an integral part of a patient's therapy," Bise says. "Beyond this healing garden is a mediation room — a small space that may be used for private contemplation.
"In consideration of the need for a tranquil environment, rooftop equipment was selected to minimize noise emissions to preserve the peaceful setting of the roof garden below," Bise adds. "We used falling water features in several places as white noise to mask the sounds of the city beyond. Many of the spaces throughout the interior of the building reflect colors and shapes conducive to healing and comfort, such as natural materials, curved shapes and the use of circular themes throughout."
Creating an integrated network that improved patient care and eased clinicians' burdens was another high priority for the Disney Family Cancer Center from the start.
"We met extensively with Providence's information systems folks to try and figure out what exactly they were looking to do, both from the patient integrated technology systems side and for just straight data usage of computers and medical records," says Bise. "There was a strong push to have medical records accessible throughout the facility, so we provided space for PCs in the exam rooms on folding swing arms that allow them to be tucked away when not in use.
"There are PCs in the consult rooms too so doctors can visually present diagnostics and treatment plans to families," Bise adds. "Physicians also have the ability to put their cases on large displays in the conference rooms."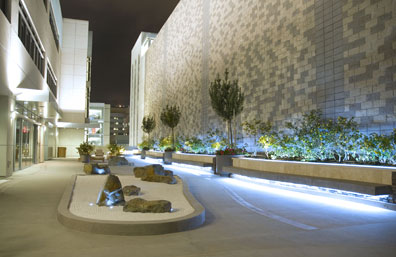 Through the use of Radio Frequency Identification tags implanted into patients' clinic cards, cancer center physicians and nurses are notified as soon as their patients arrive at the hospital. Staff can also track where a patient is located on the premises and whether they are in a treatment room, just outside the hospital, or off the grounds completely. When a patient enters a treatment room, that room's network reads their RFID and adjusts lighting, music, and temperature according to their personalized preferences. Several treatment rooms also display ceiling- and wall-projected videos that show soothing scenes, like beaches or forests.
In addition to enhancing patient experiences, the integrated network was designed to improve clinical workflow by better connecting physicians to patients and patient records, reducing the number of manual tasks that need to take place, and allowing medical staff to stay connected via Voice over IP phones while away from hard lines.
"With RFID technologies, clinicians and staff know exactly where patients are in the building and how they are progressing through the activities of their visit," says Bise. "They're able to tell if the patient is still in the sub-waiting area or if they've moved on to one of the treatment rooms."
"The hospital was eager to have patients be more comfortable during the treatment process by giving them a sense of control during a point in their lives where they may feel out of control," Bise added. "Patients are going through what is at best a very difficult process, so by allowing the patients to set up the various rooms they'll be in to their liking with sound and lighting, they can achieve a welcome level of control over much of their experience."