Seattle Children's Plan Moves Forward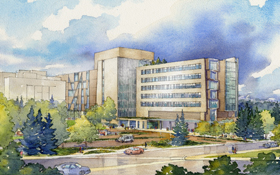 SEATTLE — Seattle Children's Hospital released an artists rendering showing what the campus may look like in 2013 when the first phase of a construction project that will ultimately increase bed capacity from 250 to 600, is completed.
The $175 million phase one, which Seattle-based Zimmer Gunsul Frasca Architects is currently planning, is scheduled to break ground in early 2011, and will add between 60-80 beds to the campus. With a twenty-year total project timeline, the proposed design incorporates neutral stones, glass and metal — all chosen to complement the current architecture and park-like surroundings. Sellen Construction, also of Seattle, will be the builder on phase one.
Phase one will add approximately 300,000 square feet of space to the hospital, including a kitchen, service dock, and improved emergency department. Some portions of the new campus will incorporate green roofs to absorb runoff, and insulate the building.
As a result of collaborative planning, patient rooms will be designed as eight-room "neighborhoods" with transparent slider doors that provide visibility for families and their care team. Features will include: sleeper sofas, privacy curtains, bathrooms with showers, and care team "porches" — alcoves outside patient rooms that provide closer access for the care team.
"Over the last few months, we have listened to hospital staff and patient families in order to design spaces that respond to their needs," says Lisa Brandenburg, chief administrative officer at the hospital.
Hospital officials say that the need to grow is based largely on the projection that Washington's infant to 21-year-old population is expected to grow 21 percent by 2030.
Overcrowding at the pediatric hospital is another reason for the expansion. At 250 beds, Seattle Children's is small compared to pediatric hospitals in cities of similar size. The facility is already operating at 85- to 100-percent of capacity year-round and staff has had to turn away sick children in the past because of a lack of intensive care beds.
Planners are also working with the City of Seattle and the community to analyze options for a new helicopter-landing pad.