Part II: Lead With Transition Planning
By Terry Thurston
During Part I of this two-part series, it covered the importance of transition planning during new hospital construction or renovations. Through the transition planning process, health care organizations receive invaluable intangible deliverables including the breakdown of department silos through increased appreciation for work in other departments, elimination of duplicative processes and cross-training of staff, as well as the benefits of change management and culture development.
Specific sequencing is paramount. There may be staff turnover from the original design teams to the phase of transition and activation.  New members and decision makers need to see and understand the reasons for design decisions and new standards.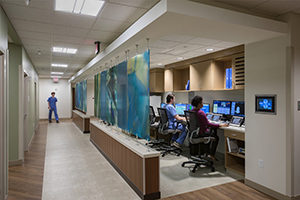 One major process that comes up in almost every transition planning engagement includes more effective and better ways to deliver medications to patients while minimizing unnecessary steps for the nursing staff.  The patient needs to receive the right drug, at the right time, in the right dose and route, every time. From the nursing perspective, medications need to be easily accessible, as close to the bedside as possible and available when needed. Pharmacists are concerned about the appropriate storage, accurate dispensing and controls to the distribution point of care. Balancing the needs of these various group to find a solution that works for everyone is possible if the right processes are employed.
Testing new processes through mock scenarios and drills is also integral to effective transition planning.  These drills help to test the new processes to assure that they fit the design of the new facility.  Typically, mock drills and simulations are staged approximately two-three weeks prior to activation after all equipment and supplies are in place. Those processes with the most change are tested and simulated with staff to ensure correct understanding of location of critical equipment, supplies and flows of patients, visitors and staff.
At Castle Rock Adventist hospital, the transition team managed the process beautifully. "In working through transition planning for the opening of our new acute care facility, the Transition Team provided the detailed guidance needed in designing an operation plan," says Vicki Mettlach, Project Manager/Director of Quality Resources.  "This involved creating policies and procedures, developing process flow and testing mock patient scenarios.  This was very beneficial to us in our preparations to open successfully and smoothly by keeping us on track and on top of the overwhelming details that could otherwise be overlooked."
Lean tools are the root of effective transition planning. Without good tools, it is impossible to create customer value, eliminate waste, promote flow, or test processes, all steps that are instrumental in eliminating waste.  The process map is an important tool that transition teams employ to establish roadmaps and guides for decision making in multiple healthcare processes and procedures.
Enthusiasm, Energy + Improved Care Delivery
Working hard to ensure the smoothest transition, a large proportion of staff will have put in extraordinary time in the months prior to the move. Day one is a time to celebrate. But in the months and years that follow, real success will always be measured by the care that is given. How seamless that care is, and its delivery will depend on the work that was done in the transition planning phase from the old facility and to processes in the new. The net result – patient safety, patient satisfaction, and operational efficiency — is ultimately the chief goal.
Optimizing the value of transitioning with all attendant changes is a significant moment in an institution's history, which can depend not only on unique talent and expertise, but also extraordinary levels of enthusiasm and energy. Health care leaders can decisively include transition planning in their project scope from the outset, leveraging the excitement as well as bringing clarity and improvement to new facility processes.
Terry Thurston is the Healthcare Operations Planner with Indianapolis-based BSA LifeStructures. She can be reached at tthurston@bsalifestructures.com or 317.819.7878.