WhidbeyHealth Medical Center Expansion to Open This Fall
By Rachel Leber
COUPEVILLE, Wash. — The WhidbeyHealth Medical Center expansion in Coupeville is now 75 percent complete. The $50 million project began in September of 2015 and is slated for completion in early Oct. 2017.
The two-story, 60,000-square-foot project was designed by the Seattle office of HDR Architects and Engineering, with Andersen Construction (also in Seattle) serving as the general contractor, with George Senerth, director of facilities and plant engineering at WhidbeyHealth directing the project. Marc Estvold, an Anacortes architect, has been hired as a contract project manager on the project.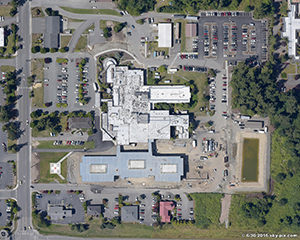 The new expansion will include 39 rooms for inpatients, observation and labor and delivery, according to Craig Holt, project executive at Andersen Construction. All patient rooms are single occupancy and are located at the perimeter of the building allowing natural light to enter the rooms while maintaining privacy, according to Holt. The previous patient rooms were 210 square feet, with the new single-patient rooms measuring at 280 square feet. Labor and delivery suites will also be larger at 392 square feet and 87-square-foot bathrooms, with large white soaking tubs. The new patient rooms will be large enough to include high-tech medical equipment and will include a private bathroom for each, with almost every room with a motorized lift above the bed.
The new wing is being constructed with smooth, non-porous walls and floors, increased hands-free sinks, and more airborne infection isolation rooms in an effort towards more infection-control. Instead of a large centralized desk as in the past, small work stations have been installed in the hallways directly outside patient doors to decrease time spent going back and forth. There is also a "nurse server" pass-through slot on patient doors, so supplies can be delivered to patients in a way that will offer the patients more privacy and rest. "Patients can expect a more healing environment when the medical center's new wing opens in late spring," said Geri Forbes, chief executive officer at WhidbeyHealth in a recent statement.
Each room has a "family zone," with cushioned benches with cushions to provide seating and a place for a visitor to sleep overnight, and have been designed and standardized to have beds, cabinets and supplies all located in the same places to improve nurse and physician efficiency. The expansion is intended to upgrade overall patient services, and improve efficiency for hospital staff, according to Estvold in a recent statement.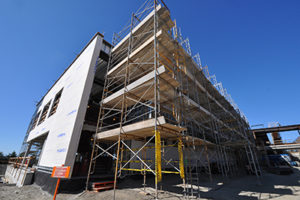 "Great effort has been taken by the leadership of the hospital to include input from the entire team to guide the design and end use of the new space," said Holt. The addition is two levels with the bottom level open for future expansion and the upper level for full use as patient rooms and supporting services, according to Holt.
The new wing will also be more energy-efficient with a lighting system that emulates the natural light from outside. Additionally, a variable refrigerant flow heat pump system is being installed by Coffman Engineers in Seattle, consultant to HDR Architecture on the project. The pump system will reduce the hospital's energy use by 40 percent annually, and the combination of these sustainability measures will cut hospital energy costs by one third, according to Duncan Griffin, sustainable principal at HDR.
The hospital will receive an energy rebate from Puget Sound Energy in Bellevue, according to Griffin. Additionally, students with the University of Washington's Integrated Design Lab in Seattle are tracking the project to gauge energy savings. "It's been a goal for a long time to bring hospital energy performance to a more reasonable level," said Griffin. "Hospitals are huge consumers of energy which can have a negative impact on the community. With the installation of good solar shading and a high efficiency mechanical system, we can achieve this, and conserve community resources in doing so."