UCSD Health $943 Million Jacobs Medical Center Open for Business
By Rachel Leber
LA JOLLA, Calif. — The new Jacobs Medical Center at UC San Diego Health in La Jolla opened on Nov. 20, 2016. Construction began in 2012, and the center was named in recognition of a $75 million gift from the Joan and Irwin Jacobs family. The 245-bed new medical center brings cutting-edge technology for cancer treatment and other specialty care.
The 509,500-square-foot 10-story facility had a budget of $943 million. Architecture and interior design were provided as a collaboration between the Yazdani Studio of Cannon Design in Los Angeles and Cannon Design's Los Angeles Office. The general contractor was Kitchell Contractors out of their San Diego and Phoenix, Ariz. offices.
The Jacobs Medical Center will contribute to meet the healthcare needs of San Diego County — San Diego is California's second-most populated city, with 3.3 million residents, and 17 percent fewer acute-care beds per 100,000 residents compared to the statewide average, according to a statement. The medical center includes three specialty centers: one for women and infants, a cancer center, and an advanced surgery center.
The design team created over 60 design concepts with a wide range of configurations and relationships to other buildings on the campus throughout the process, according to William D. Hamilton, AIA, principal at Cannon Design. "The scheme continually changed over time, with the footprint and building envelope being driven by the number of beds per unit, and the number of rooms with windows and daylight defining the floorplate."
The surgical center has 14 operating rooms with an advanced surgical suite of four operating rooms. The center also has an MRI and 64-slice CT scanner for real-time imaging. The medical center houses a cancer center with 108 beds in addition to its 245 acute-care beds. There is an entire floor in the cancer center dedicated to blood and bone marrow transplant surgery and recovery. One of the state-of-the-art features of the cancer center is a floor that receives specially filtered air to help protect patients with compromised immune systems, according to a statement.
The hospital also houses an intensive-care unit with 36 beds in family-friendly rooms, 36 postpartum beds and a 52-room, neonatal intensive-care unit. Each room in the birth center has its own built-in birthing tub. There is even a "serenity room" in the hospital, beautifully designed with wooden curved benches and walls that promote relaxation through their design.
The Jacobs Medical Center is a triangular building, with a unique curvilinear design, and is connected by footbridges to UCSD's Thornton Hospital on the La Jolla campus. "The geometry creates a subtle continuous flowing curve of the exterior — a dynamic form that changes as one passes around the building's perimeter," said Hamilton. Most rooms at the hospital have floor-to-ceiling windows to maximize natural light with panoramic views of San Diego, and gardens outside the facility designed to promote healing.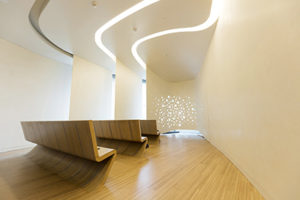 There are dedicated family areas with lounges and kitchenettes on each inpatient floor, and outdoor terraces and courtyards. Every floor and patient room is decorated with the 150-piece art collection donated by philanthropist Joan Jacobs that includes paintings, photographs and sculptures by renowned artists. There is a rooftop helicopter landing pad, and the building has a low-carbon footprint that meets the requirements for LEED-Silver certification.
Some LEED-Silver features of the hospital include a drought-tolerant plantings and sprawling green space at the ground level and at the patient level via raised gardens, according to Hamilton. The overall curvilinear form of the hospital maximizes daylight and minimizes solar gain and glare. Fritted glass serves as buffer to the southern sunlight, minimizing the building's cooling output. The building is in close proximity to bus and light-rail transit, provides designated parking for low-emitting vehicles, and includes bike storage and changing rooms to encourage alternative transportation.