NYC Health + Hospitals Builds New Ambulatory Care Facility in Staten Island
By Rachel Leber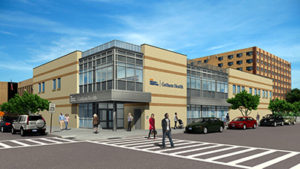 NEW YORK — NYC Health + Hospitals — the largest public health care system in the U.S. — broke ground on Nov. 30, 2016 on a new ambulatory care facility in Staten Island, N.Y. The ambulatory care center's goal is to meet growing needs in this underserved area and expects to provide 40,000 patient visits annually by 2020.
The 18,000-square-foot facility is slated to open this fall. This $28 million project received $20 million of its funding from New York City's Primary Care Expansion Initiative and $8 million from the New York City Council. The architect on the building project is MJCL Architects in Brooklyn, N.Y., with Axis Construction in Hauppauge, N.Y. serving as the general contractor for the project.
"Staten Island's North Shore is a medically underserved community in a borough with limited health care options," said Senator Diane Savino in a recent statement. "This new, state-of-the-art facility will not only be able to service a growing population of children and women who are geographically far from their primary care facility, but many will now have urgent care services in their own community."
The ambulatory care center will include 38 exam rooms, and will offer internal medicine, primary care, mammography, OB-GYN care, pediatric care, urgent care, asthma and diabetes care and ultrasound testing.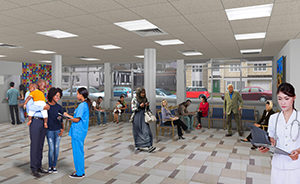 The ambulatory care center's design includes plans to let as much daylight as possible into public spaces, according to Dave Gosine, architect and director of engineering in the office of facilities and development at NYC Health + Hospitals. "It was really important to us in the design process that we create spaces that are welcoming. Along those lines, we used materials that are common for the neighborhood, like lots of brick and glass," said Gosine.
The building is going to be LEED-Silver certified, according to Gosine. Some features that will help it to gain this LEED-Silver status are water-efficient landscaping, water-use reduction, the use of low-emitting materials and recycled materials, the specific details of which have not been released by the architect or NYC Health + Hospitals. Additionally, the building is a modular/pre-fab construction project, which will significantly reduce construction waste management, thus further contributing to the LEED-Silver certification status of the project.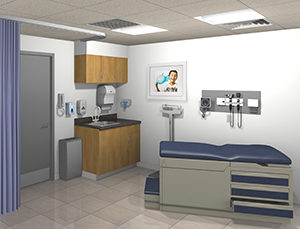 In addition to reducing construction waste, this modularly-constructed building will cut the project time in half, according to MJCL Architect Vincent Catanzaro, principal architect on the project. "The fact that it's modular shortens the construction schedule, and is better in cost as well. They take the modules apart when they are finished and then they'll bring the disassembled pieces by tractor trailer to Staten Island to be reinstalled," said Catanzaro. There will be 36 modules in total constructed off-site while the foundations for the building will be built on-site in Staten Island.
In the end, the project from start to finish will take only 12 months, according to Catanzaro. "To complete a building like this in a 12-month period is quite a feat," said Catanzaro. The reduced construction time, while always useful, is particularly helpful for this project as the needs of the community are driving the deadline for the project. "There's a major need in this community for these health services, so, we are really trying to bring it to market as quickly as possible," said Gosine.