Riding the Curve to High Operational Efficiency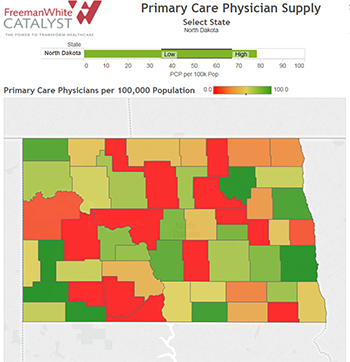 The health care industry is rapidly moving away from the traditional fee-for-service delivery model toward a value-based, population-based delivery model; however, large, regional providers are still largely supported by fee-for-service care. To remain cost-competitive, health care organizations must encourage their providers to move toward a more cost-effective delivery model. In order to enable their providers to make this move, organizations need to change existing infrastructure to create a leaner working environment. They must achieve these goals with the lowest possible capital investment because the landscape is anticipated to significantly change over the next 10 years.
Historically, health care organizations have used traditional 20-, 30- or even 50-year capital financing mechanisms to fund bricks and mortar construction and have retained long-term ownership of those facilities. In this new economic environment, health care leaders need to identify other financing mechanisms that will limit their initial capital investment and enable them to cost-effectively use facilities over the next five to 10 years — for example, a lease-back arrangement with a developer for an urgent care facility. If the market changes enough in 10 years that the site is no longer functional or cost-effective, then the health care organization is not saddled with excess capacity and long-term depreciation.
The biggest question for health care leaders is, "How do we optimize our existing infrastructure to enable the organization to continue to provide quality fee-for-service, episodic care at reduced costs as we slowly move toward population health over the next eight to 10 years?" Here are insights on the data, design and performance considerations that affect optimization of a health care organization's delivery model.
Significant Changes in the Bell Curve
The United States is on the cusp of a significant bulge in the population bell curve — and the health care industry will ride that bumpy curve. The number of baby boomers over the age of 65 is in double-digit growth year after year. The older people become, the greater their demand for and use of health care services. Moreover, their acuity levels and/or co-morbidities tend to increase, so their frequencies and lengths of stay also increase.
These trends are compounded by a current lack of access to primary care providers. As a result, hospitals will have a higher percentage of emergency and ICU cases with a higher average length of stay. In turn, the health care industry will require more high-dollar resources for staffing, facilities and materials to provide care for these sicker patients.
Within the next four to six years, the health care industry is likely to require health care financial reform on the federal level to support a shift in care from the inpatient environment to a lower-cost ambulatory care setting. In theory, this will cause the curve to plateau for a period of time. Then, as the baby boomer population declines over the next 15 years, the bell curve will be on the downward slope, reflecting the increasing dominance of the ambulatory care delivery model.
Here is the problem: The health care industry runs the risk of over-building in the interim and having excess capacity over the long-term. The solution is to find the "sweet spot" between a 30-year depreciation model on new construction and improved access for the next eight to 12 years.
Strategic Investment Decisions
Whatever the trends may be on the national level, having the right data to inform strategic investment decisions will enable a health care organization to remain competitive in its local market. The aim is to use data to leverage existing resources and operational performance to avoid long-term, capital-intensive investments in bricks and mortar — until there is no other alternative. Then, a major capital investment in new construction becomes a clear, decisive action.
What are "the right data?" Local demographic, demand, utilization and payer data by department and/or service line should be quantified to make a highly educated prediction of the curve over the next 10 years. Based on the data, the organization can develop a strategy that enables it to thrive during the next three to eight years going up the curve, ideally, one that plans for the minimal investment required to meet demand and utilization and to ensure access over the next three to five years.
At the same time, the organization needs to allow for contingency and flexibility. For example, an organization may be able to meet the projected demand for orthopedic procedures and fully use 400 to 500 square feet of OR space instead of 600 to 800 square feet. It may be able to site, design and build inexpensive space to accommodate the projected number of beds for acute care patients over the next 10 years, and then adapt the space for observation or post-acute skilled nursing.

Design Tied to Operational Efficiency
Just as quality is driven by and evaluated based on metrics, facility design and efficiency are tied to operational performance and patient outcomes. Target operational efficiency metrics are the foundation of facility design and construction. If the health care organization's goal is to attain, and remain in, the nation's top 25th percentile in terms of operational efficiency, then the organization's buildings must perform to the same high standard. However, it is often difficult to quantify the direct correlation between facility variables and operational efficiency metrics, for example, between hospital travel distances and staffing ratios.
Health care planners and architects can add value to the process by clarifying these correlations and designing facilities that support lean staffing, short travel distances and high throughput, among other goals, to enable an organization to meet its operational efficiency target. Procedural rooms, in particular, have a significant impact on operational efficiency. For example, if a surgery department is designed with 20 ORs when the number of cases could be optimized in 16 ORs, then there is little pressure on schedulers, physicians and support staff to fully use block time or to ensure that standard procedural equipment is stocked on case carts at the start of every day. Health care planners can show leaders how they can optimize processes to reduce costs or repurpose four ORs to generate revenue.
Real estate decisions also have a significant impact on operational efficiency and overall cost. Moreover, for example, if the demand for an ED in a market shifts to urgent care, it will not be cost-effective to repurpose the existing ED as an urgent care center due to its high overhead, excess space and expensive infrastructure.
The lesson is to think like a commercial real estate company, which considers in advance how it will profitably leverage a building for 25 years after the first tenant leaves. A design strategy that employs lean design principles, "plug-and-play" components and standardization of physical layout, equipment and technology supports this new way of thinking by optimizing the health care delivery model and associated operational efficiencies.
Anticipating significant changes in the bell curve — as baby boomers' demand, utilization and acuities increase and PCP access declines — health care leaders are fastening their seat belts and bracing for a bumpy ride. Leaders can optimize the delivery model for the next 10 years through effective use of data to inform strategic capital investment and performance-based design decisions.
Michelle Mader is the president at Catalyst, which provides critical and timely advisory services to health care executives by assisting them in the complex navigation of health care strategy, operational optimization and planning. She can be reached at mmader@freemanwhite.com.