Growing Together at Stanford Children's Health
PALO ALTO, Calif. — Lucile Packard Children's Hospital Stanford located in Palo Alto, is undergoing a $1.2 billion expansion set to open in summer 2017. It will add 521,000 square feet to hospital grounds as well as 149 patient beds. The project has been in development since 2006.
According to Stanford Children's Health, the expansion will include six new surgical suites, a nuclear medicine department, three new imaging units, four diagnostic units including a cardiac "hybrid" angiography suite and more than 3.5 acres of healing gardens comprising native and adaptive vegetation.
"There are also several features that will make the new building friendlier for kids and their families," according to Stanford Medical Magazine. "The sculptures in the garden outside the cafeteria will double as climbing structures — most of these, including an enormous wolf's head fashioned from river rocks, have already been installed."
The expansion will provide more access to innovative technology and top-of-the-line treatments as physicians continue to provide superior care to pediatric and obstetric patients. More than 800 physicians, surgeons, radiologists, nurses and parents have supported it, according to a hospital statement.
By making the hospital a more family-friendly place to be, the expansion will help to improve the lives of patients and their families by easing the stress of a hospital visit or long-term stay.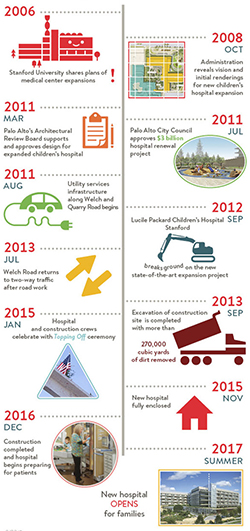 A story corner and broadcast studio will be included in the hospital design to make it easier for children to spend long hours waiting for family members who have been admitted, according to Stanford Medical Magazine. Each of the patient rooms will have a pull-out couch designed to sleep two people. The hospital believes these features will ease the tension associated with long-term or temporary hospital stays.
The hospital has also made an effort to improve the patient experience by selecting local and organic food choices to be served in the cafeteria and vending machines. Green housekeeping and a comprehensive recycling program will be put in place to help ensure waste is reduced.
By improving the quality of care, the hospital will also take on a more sustainable outlook. Outside, electric vehicle charging stations have been installed. Inside, water-efficient bathroom fixtures replace standard faucets and toilets. This will reduce potable water usage by 30 percent, according to a hospital statement. Rainwater, wastewater and condensation will be harvested to meet 100 percent of the irrigation needs for landscaping. This will help save more than 684,000 gallons of water per year.
To power the hospital, a renewable energy system has been put in place. This includes a wind turbine that will work to power a portion of the new renovation.
Perkins+Will, located in Chicago, and HGA Architects and Engineers, located in Minneapolis, are working on the design of the project. The Sobrato Family Foundation, the David and Lucile Packard Foundation, and corporate partners have contributed more than $250 million to the hospital.
The Lucile Packard Children's Hospital at Stanford officially opened its doors to the community in 1991. Since then, it has provided extraordinary care to infants, children and expectant mothers from the community.