Roper St. Francis Partners with HDR on New Hospital Design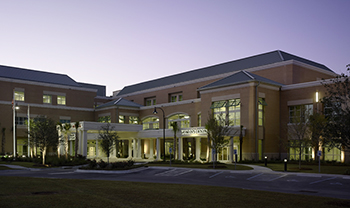 GOOSE CREEK, S.C. — Roper St. Francis, a South Carolina-based health care system, named Omaha, Neb.-based architecture firm, HDR, as the designer for its new lower Berkeley County hospital. It will be the most recent addition to the Roper St. Francis Hospitals health care system since Roper St. Francis Mount Pleasant Hospital opened in November 2010.
To be built in the Carnes Crossroads area, the new Roper St. Francis Berkeley Hospital will have 50 beds and cost approximately $113 million. The 140,000-square-foot facility will include obstetrics, physical therapy, infusion therapy, radiology and imaging services, a 24-hour emergency department and pharmacy. A medical office building will also be built on the 90-acre campus to better accommodate the way patients access health care.
"Roper St. Francis selected HDR for its high level of design creativity, depth in evidence-based practice, strong engineering background and excellent team," said Scott Broome, CEO of Roper St. Francis Berkeley Hospital, in a statement. "They are forward-thinking and will be able to guide us in creating a health village."
HDR is the same firm that helped create South Carolina's iconic Arthur Ravenel Jr. Bridge, which connects Charleston to Mount Pleasant over Stono River. The firm has completed a number of high-profile health care design projects, including Cleveland Clinic Abu Dhabi and Johns Hopkins All Children's Hospital Research and Education facility in Florida.
"HDR has extensive experience in doing a green field hospital, or transforming a site with nothing on it and building a welcoming facility that puts patients at the center of design," Broome said in a statement. "This will be a facility that takes us into the future. We want to be the community's preferred partner for innovative, patient-centered health care for years to come."
The hospital, which will be located near the Del Webb retirement community, will be more convenient for nearby residents who currently travel half an hour to the nearest medical facility. Broome compared the health village concept to a college campus with multiple buildings.
J.R. Van Vechten, a senior whose wife is recovering from surgery at the closest hospital, spoke on the challenges of being located so far from medical care. "If I would have driven her to the hospital, she might not have made it," he said at a town hall meeting.
Plans for the hospital have been in the works for more than seven years, but were delayed due to a lawsuit with Trident Hospital. The design process will take about a year to complete, with a 24-month construction period to follow. The first part of the design focuses on the placement of the buildings in relation to the roads. The second part will incorporate Roper St. Francis teammates in the design of the interior spaces. Completion is estimated for early 2019.
The facility can't come fast enough for the residents of Berkley County, where the population is nearing 200,000 and is steadily rising every year, according to the U.S. Census Bureau. The project is expected to create more than 200 jobs in the area.