Stanford Hospital Expansion Tops Out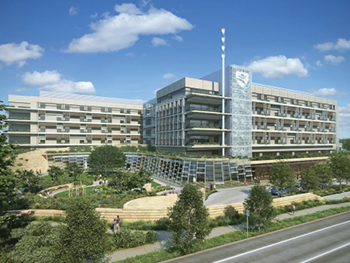 PALO ALTO, Calif. — The $1 billion Lucile Packard Children's Hospital Stanford expansion recently celebrated the completion of its structural steel.
DPR Construction of Redwood City, Calif., worked closely with Chicago-based Perkins+Will and Minneapolis-based HGA Architects to expand the facility. The expansion adds more than 500,000 square feet to the existing hospital and will include more advanced technologies using environmentally sensitive methods.
The teams worked together through a dense, congested site in a fully operational medical center to minimize disruptions to the facility and Stanford University. The project also included the relocation of existing on-site utilities and make-ready site work, demolition of two existing buildings, and expansion of the emergency generators and medical gas yards, as well as underground parking for a minimum of 430 cars.
The hospital was originally built in 1991 and included 312 beds in a 250,000-square-foot facility. It cost more than $100 million to build. The expansion will more than triple the size of the facility.
The expansion, which is targeting LEED Gold certification, aims to further the hospital's mission of providing family-centered pediatric and obstetric care and will include 149 new hospital rooms, increased surgical and diagnostic suites and new treatment rooms. Sustainable designs for the new facility include on-site water collection, wind turbines, recycling infrastructure, electric vehicle charging stations and native plants in the outdoor gardens. Additionally, the expansion will provide more than three acres of outdoor areas and gardens for families, as it is believed that nature helps with the healing process.
New private patient rooms, will feature foldout double beds, closets, large TVs and private bathrooms to accommodate children's families and visitors.
"We're proud to celebrate this construction milestone and help further the hospital's family-centered care, while providing the community with a facility that follows the latest green building practices," said George Hurley, project director for DPR Construction, in a statement. "DPR is committed to combining experienced people, a collaborative methodology and custom tools to incorporate sustainability into all building development."
The hospital is named after Lucile Packard, wife of HP cofounder David Packard. Lucile frequently volunteered for various efforts to improve the lives of children, and the David and Lucile Packard Foundation continues that mission today.
"The new hospital has been designed not only for our patients today, but also for what we anticipate will be their needs in the future," hospital president and CEO Christopher G. Dawes, told HC+O News when builders broke ground on the new facility. "The new facility will incorporate the very latest medical technology while also providing more privacy and space for families to be with their sick child or pregnant spouse."