A Case Study in Construction Cost and Schedule Challenges
NEW YORK — When a shorter construction schedule was implemented for the Henry J. Carter Specialty Hospital and Nursing Facility in Harlem, it forced designers and contractors to re-evaluate their plans to overcome any potential delays.
The original objective was to relocate Coler-Goldwater Specialty Hospital and Nursing Facility (later renamed to Henry J. Carter Specialty Hospital and Nursing Facility) from Manhattan's Roosevelt Island to the Harlem neighborhood of New York City. The $285 million project would be divided into two projects: renovating 270,000 square feet of the former North General Hospital in Harlem and building 185,000 square feet of space next door to accommodate a new, 164-bed nursing facility.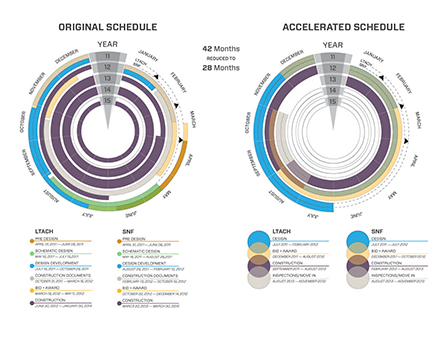 Had the original timeline been maintained, the hospital and separate nursing facility would still be under construction with a completion date set for March 2015. These plans were overhauled, however, when New York City's mayor made a special announcement.
"We started schematic design and realized quickly that Mayor Bloomberg had announced that Cornell University and its partner, the Techion-Israel Institute of Technology, were going to be awarded an applied sciences technology school," said Marsha Whitt, principal at Array Architects, based in King of Prussia, Pa., and project manager for the Henry J. Carter facility.
The technology school was set to build on the same Roosevelt Island site where the Coler-Goldwater hospital was located. The only problem was that the hospital needed to be demolished — quickly. The expedited demolition date moved the completion and patient-move date for Henry J. Carter up to November 2013 and shrank the schedule by 16 months.
"That's when we had to back up and relook at the project and look at how we were going to approach it. How long was design going take? How long was construction going to take? How were the design team and the construction managers going to work together to meet these accelerated deadlines?" Whitt said.
A new time frame wiped out the design-development process. The solution was to regroup and implement integrated project delivery (IPD) strategies and a collocation system. Array went straight from schematic design to construction documents. This forced the project's construction manager, Gilbane McKissack (a joint venture between Providence, R.I.-based Gilbane and Nashville, Tenn.-based McKissack & McKissack) to start looking at how they could quickly get resources on-site.
All stakeholders involved in the development process came together in full-team meetings. The strategy united the design team, construction manager and hospital owner in one location, and the collaboration accelerated the decision-making. Additionally, performance incentives that included shared cost and schedule metrics for both the contractor and design team helped to maintain the team effort.
"You're joined at the hip by money, but since we were collocated, we put that piece aside and started to work as a cohesive team; we were all working toward the same goal," Whitt said.
One critical component of adjusting to the tighter schedule involved dividing the two projects into multiple bid packages, which helped speed up information delivery, contract award and start of construction.
"Traditionally you may have a site package, an exterior package and a fit-out package. On this, we ended up with 20 packages because we broke it out by what could be purchased and when to get it on-site and get it installed," Whitt said.
The client, contractor and design team worked side-by-side to review and approve packages. That process helped with getting parts of construction completed earlier — things such as elevators, major medical equipment and the mechanical, electrical and plumbing (MEP).
Just when the process was starting to go smoothly, the development process for the hospital and new nursing facility hit a new obstacle — Hurricane Sandy. Luckily, the Harlem site was not flooded, but it prompted a review of storm and flood elevations for the facilities. The project team included additional equipment protection and elevated electrical equipment on higher pads.
The Henry J. Carter Specialty Hospital and Nursing Facility opened on time, and Array is now involved in "Day 2" revisions, assessing what else is needed — or needs to be adjusted — after occupant move-in.