Nationwide Children's Projects to Cost $130 Million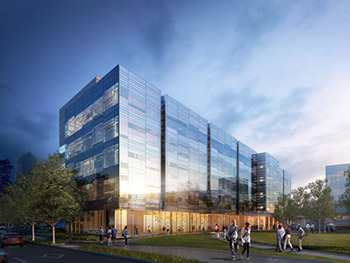 COLUMBUS, Ohio — Nationwide Children's Hospital unveiled details last week for two new facilities near its downtown campus in Columbus. The expansion projects are estimated to cost $130 million combined.
Construction is slated to begin on the Livingston Ambulatory Center in February, and there was already a groundbreaking for a new faculty office building on the hospital's campus. Both new buildings will give more room for faculty offices and outpatient clinics that have outgrown their available space. Moving ambulatory services away from the inpatient hospital will allow for those services to expand and the vacated spaces will help accommodate growth by other hospital programs.
Nationwide selected Seattle-based NBBJ as the architectural firm for the $85 million ambulatory center, and Gilbane Building Co. of Providence, R.I., and locally based Smoot Construction are the construction managers for the project.
Nationwide paid $19.2 million to Columbus City Schools in March 2013 to acquire
10 acres for the new ambulatory facility. The six-story, 200,000-square-foot Livingston Ambulatory Center will house ambulatory services, such as primary care, dental services, behavioral health, adolescent medicine, sports rehab, the Center for Healthy Weight and Nutrition and other rotating clinics. Nationwide expects more than 100,000 patient visits to the facility annually, and anticipates area businesses to benefit from increased exposure to families that are accessing the new facility.
NBBJ is also serving as the architect for the new, $45 million faculty office building under construction. Corna Kokosing of Westerville, Ohio is the construction manager for the project. The building will house academic offices that are being relocated from the hospital's main campus and will help meet the needs of a growing medical staff.
The faculty office building is located on the southeast corner of Livingston and Parsons Avenues, and the hospital is building a tunnel under Livingston Avenue from the hospital's main campus to provide access to this new building, as well as the current 1,800-space employee parking garage, the hospital's Center for Family Safety and Healing and the Ronald McDonald House on the south side of Livingston. The six-story, 150,000-square-foot building will also include retail space on a portion of the first floor.
Nationwide Children's Hospital's main building serves more than a million patients a year.
The two new buildings are part of Nationwide's overall expansion project that is the country's biggest pediatric expansion. In June 2012, the hospital opened a $450 million, 12-story main hospital, which added 750,000 square feet of clinical space and 293 beds. Also in June 2012, the hospital opened a $93 research building, which rises six stories and is 225,000 square feet. The hospital also added underground parking, which freed up six acres of green space, as well as a LEED-certified central energy plant, which makes the campus environmentally friendly.
All told, the hospital's campus expansion totals more than 2.1 million square feet. The hospital has also been implementing a neighborhood revitalization effort for the past six years, which is a public-private effort that focuses on affordable housing, safe neighborhoods and health and wellness, among other initiatives.