Sustainability Practices: New Construction vs. Retrofits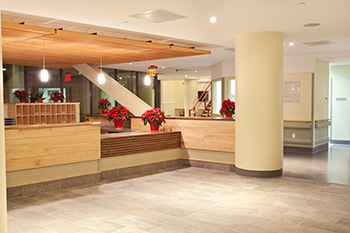 Sustainability is a key issue in today's health care industry. More than ever, health care facilities are being forced to balance a demand for lower costs with regulatory requirements and a renewed emphasis on the implementation of energy-efficient solutions all while trying to offer services in a hotel-like ambiance.
For many health care providers, the issue of sustainability comes to a head of debate over new construction versus the retrofit of existing facilities. While both possibilities present opportunities and challenges, sustainability, existing infrastructure and cost savings often drive the conversation and influence organizational decision-making.
Because lighting is a major source of energy consumption in modern facilities, lighting options inevitably make their way into new build versus retrofit decisions. While LED lighting can significantly reduce energy costs along with energy requirements, health care facilities need to gain a more accurate understanding of the role it plays in the discussion.
The Role of LED in Sustainability
A wide range of variables needs to be considered when deciding whether to build new construction or modify existing health care facilities. Although lighting isn't the only factor, the use of LED can provide significant benefits and enable the organization to improve sustainability in both scenarios.
• Energy Efficiency: LED lighting reduces energy consumption, saving a typical health care facility tens of thousands of dollars in energy costs each year. A recent parking lot structure retrofit by Memorial Sloan-Kettering Cancer Center in New York replaced 700 fluorescents with LED, and reduced lighting energy costs by 57 percent — saving enough energy to power more than 180 U.S. homes for one month.
• Maintenance: Approximately 15 to 20 percent of standard fluorescent ballasts and 70 percent of fluorescent lamps require replacement each year. LED lamps and fixtures are ballast-free and only need to be replaced every five to 10 years, substantially lowering the cost of facility maintenance and allowing facility staff to better care for other issues. Lower maintenance requirements also increase patient satisfaction by eliminating the need for maintenance activities in private rooms and other patient-facing areas of the facility.
• Risk Management: Broken fluorescents present serious safety risks in health care facilities because a broken fluorescent lamp can cause mercury exposure and other hazards. Consequently, the American Institute of Architects recommends eliminating mercury from light fixtures. LEDs are solid-state fixtures that don't contain mercury and are widely accepted as a safer alternative.
• LEED Certification: LED lighting can be an important part of receiving LEED design certification for new construction. The Cerebral Palsy Associations of New York State recently installed 2,000 LED lights in its new facility, resulting in an expected energy reduction of 66 percent and LEED certification for its new West Farms Center location.
Sustainability Tips for Health Care Facilities
The decision to build new or retrofit existing facilities is different for every health care organization. Patient needs, architectural concerns and other concerns will need to be addressed at various stages of the process.
But when it comes to the evaluation of lighting and the need to create a more sustainable, more energy-efficient facility, there are several tips and strategies that decision-makers can use to better inform the decision-making process.
1. Develop Cost-Benefit Models. From a lighting perspective, the process begins with the development of a multi-year, cost-benefit model for each approach. The installation of LED lighting in new construction enables the facility to run as efficiently as possible from the onset; however, retrofitting an existing facility with LED delivers the same benefits going forward, while allowing the organization to continue to leverage their investment in existing infrastructure.
The installation of LED lighting is more costly than traditional fluorescent fixtures. But over the long term, LED consistently outperforms fluorescents in delivering energy savings, cost savings and better quality lighting. Multi-year models highlight these savings and provide the information necessary for accurate ROI analyses.
2. Consider a Segmented Approach. One of the cost-management strategies many health care facilities leverage to improve sustainability is a segmented retrofit. Rather than converting the entire facility to LED at one time, the facility decision-makers take a staged approach to make the financial commitment more manageable. For example, it's common for health care facilities to begin with parking garages because these areas require artificial lighting around the clock. Stairways, hallways and waiting areas also create opportunities for immediate payback due to high lighting requirements.
3. Explore Rebates. The push for more sustainable facilities is being felt by organizations in nearly every industry. Energy providers and other interests have a vested stake in helping facility managers improve energy efficiency and in many cases, offer rebates for qualified construction or retrofit initiatives.
Memorial Sloan-Ketterring Cancer Center's LED parking garage retrofit qualified the organization for a $22,000 rebate from Con Edison, a New York utility company. Similar rebates should be explored and taken into consideration when considering a new construction or retrofit project.
LED lighting reduces cost and energy consumption, equipping health care facilities with a highly sustainable and aesthetically pleasing lighting solution. Although the shape and scope of its use will vary by facility, LED clearly needs to be included in new construction versus retrofit discussions.
Ray Sjolseth is the director of product engineering with Seesmart Inc., a division of Revolution Lighting Technologies Inc. Seesmart designs, engineers and manufactures LED lighting products.