SLU Hospital Transforms Radiology Suite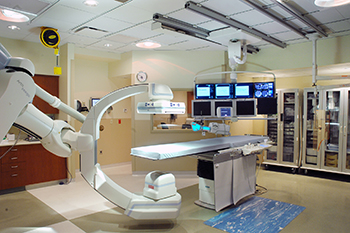 ST. LOUIS — At Saint Louis University (SLU) Hospital, the renovation of an existing radiology room turned the space into an advanced, single-plane radiology suite with a Siemens Artis Zeego angiography system.
St. Louis-based McGrath & Associates served as the general contractor, and BSA LifeStructures, with offices also in St. Louis, was the architect.
The new suite encourages the expansion of interventional radiology services at the academic medical center and is being used for interventional radiology and endoscopic procedures.
To provide support for the Zeego robotic arm equipment, McGrath added structural steel support beams beneath the existing first-floor slab. The construction team also used sheet lead radiation shielding, as well as seamless vinyl flooring with a FlashCove base and sheet wall protection.
The biggest challenge for the construction team was installing the 2- and 3-inch conduit runs for the Siemens equipment cables because the cables are made to specific lengths. This required careful planning to route conduit around structural obstacles within the cable lengths. The renovation also took place within an occupied hospital, so McGrath had to follow strict contamination isolation and infectious prevention measures in order to maintain a safe work environment and clean air quality for the on-site patients and staff.
McGrath and BSA LifeStructures worked on a similar renovation of the MRI facility at TenetCare, the outpatient diagnostic testing center at SLU Hospital, which was completed in June 2012. The two-phase renovation project replaced the existing imaging area with a new 1.5T MRI exam room and a dedicated control room, as well as refreshed the lobby with soft wall colors and new flooring.
Earlier this year, SLU Hospital also selected the McGrath and BSA LifeStructures duo to complete the $1.5 million interior expansion of its emergency department. Work on the project is scheduled for completion in June 2013.