Emerging Technologies in Health Care Delivery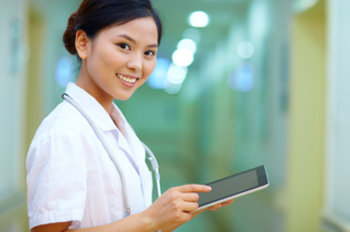 Managing one's health in the future will involve an app, a "smart" device or a patient portal. The explosion of the mobile technology industry is fast and furious, and health systems are scrambling to keep up. These changes create both opportunities and risks; but by far the positives outweigh the negatives. The impact of this technology-driven era will provide more analytics, accountability and accessibility.
The emerging technologies that are changing the way we deliver health care include:
Smart Phones and Tablets Physicians have readily adopted the iPad as part of their medical practice, enabling them to securely search for lab values and X-rays, and to communicate with staff and patients. These consumer-grade devices are entering the hospitals most rapidly by way of patients and family, and from a facility utility standpoint, the need for electrical outlets for charging inpatient and family areas is a priority. Patients and family have an expectation of Internet access, and the growth of personal Internet devices is driving hospitals to provide more Wi-Fi access. Clinicians are slower to adopt mobile technology; they soon will follow. The tablets' lightness, affordability and ability to be customized through apps make them ideal tools for the health care environment.
Health care Apps Mobile device apps provide rich information and health management tools. Among the custom apps that health systems are developing are a "wait time" app for the emergency department, a contractions monitor for patients in labor and delivery and facility maps with wayfinding to make it easy for patients and family members to navigate the hospital. Patients are monitoring their own blood pressure, air quality, blood glucose and weight loss, and these apps will only become more sophisticated, as will the consumers using them.
Electronic Medical Records EMR's have been a large capital expense for health care facilities in recent years. Federally mandated requirements for clinical documentation have captured everyone's immediate focus and budget, often derailing or postponing other critical facility needs and improvements. The EMR establishes a standard across all health care practices to enable data gathering, accessibility and eventually information exchange. Foundational to the EMR is that patients have access to their own health records and can access them through a hospital's patient portal. A note to forewarn: as soon as the cloud of urgency passes and the electronic charting platform is in place, those projects that were postponed will manifest a new level of importance, and the demand may outstrip supply when the floodgates are initially opened.
RFID Tracking Radio Frequency Identification Tracking is being deployed across health systems to manage assets and staff. The return on investment has proven to be significant and immediate. According to the RFID Journal, Tufts Medical Center's Cardiovascular Center in Boston saved $1.5 million for inventory management within its catheterization, electrophysiology and interventional radiology laboratories with the use of RFID labels. As more hospitals verify ROI and demonstrate various applications, RFID tracking will be an accountability necessity.
Operating Room Integration The advancement of video integration and image capture has set a new standard in the OR suite. This technology enables access to a full complement of video and data during a case to fully enable a surgeon's ability to make decisions and act on the most relevant real-time data, as well as consult remote specialists via high-definition video conferencing. Further, a hospital's ability to recruit surgeons today is largely based on the innovation and technology these systems offer. These high-tech OR suites command massive coordination between clinical staff, IT staff, clinical engineering, equipment vendors, design and construction staff and many others.
Wireless Medical Grade Utility Look for this term to become more common in the health care space. The West Health Institute, a non-profit medical research organization, recently formed the West Wireless Health Council and announced the creation of a medical-grade wireless open framework that effectively turns wireless into a common utility. Using best practices, the council developed a reference architecture that enables a wireless infrastructure to be incorporated into any health care system or hospital, much like air conditioning, heating, plumbing or electricity. Many health systems are beginning to adopt this architecture, paving the way for development of non-proprietary, lower-cost wireless devices and solutions along with improved management and performance of the wireless ecosystem.