Just What the Doctor Ordered
Sutter Medical Center is a State-Of-The Art Facility That Will Replace an Antiquated Hospital

When open in the fall of 2014, the new $284 million Sutter Medical Center in Santa Rosa, Calif., will boast the latest health care, building and sustainable technologies available to address emerging advancements in treatment.
A replacement hospital for the current 74-year-old Sutter Medical Center, the new 182,300-square-foot facility — just north San Francisco — is badly needed as the existing hospital is not seismically compliant, nor was it a candidate for renovation.
"Senate Bill 1953 [California's Hospital Seismic Upgrade Program] requires all hospitals in the state be brought up to seismic compliance," says Tom Minard, senior project manager for Sutter Health, Facility Planning and Development. "It was not cost effective or structurally feasible to renovate the existing hospital."
The current hospital is actually a compilation of three buildings — built in 1936, 1956 and 1970 — that is on a site too small to accommodate the hospital and ancillary needs. The new Sutter Medical Center is situated just four miles away and was designed by HGA Architects and Engineers, which integrated project delivery (IPD) methods that will significantly streamline the construction process and reduce costs.
"By using IPD methods, we created a platform to ensure that keystone patient experiences—such as lobby spaces and waiting rooms—as well as sustainability components, weren't sacrificed due to budget constraints," says Greg Osecheck, HGA principal-in-charge. "With new technology, such as 3D building information modeling (BIM), our team was able to conceptualize together to reduce unknowns and create opportunities for cost savings and design a facility that will serve the Sutter Health community for years."
Jason Tabacco, project manager for Unger Construction, general contractor on project, says the IPD method allows the team members to consolidate and share the project's risk. "This changes the typical project dynamic of 'us vs. them' and allows the team to make decisions that are in the best interest of the project as a whole, not their individual company."
Calming Features
Situated on a 25-acre site, the center will include a diagnostic and treatment block, patient wing and helistop. There will also be all single-bed, private adult rooms, and patients will benefit from daylight and exterior views, reduced noise levels, enlarged visitor space and calming hues and tones.
Other features include a family birthing center with a 10-bed labor, delivery and recovery unit with two labor pool rooms, a 20-bed post-partum unit, two C-section rooms, 12-bed newborn intensive care unit, 300-square-foot family sleep room, 40-bed medical/surgical unit, 12-bay emergency department, 12-bed intensive care unit, 24-bed observation unit, 10-bed post-anesthesia unit; imaging department; six operating room; and meditate room and gardens. Additionally, the facility will be equipped for electronic health records, wireless telemetry and a nursing communication system that keeps patients connected with care professionals at all times.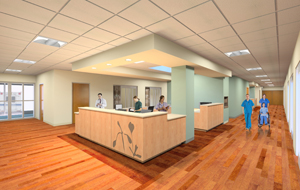 "Site preparations and make-ready work began in September 2010, and construction of the hospital building began in July 2011," says Tabacco. "The remaining permits and ongoing construction work are currently on schedule and the whole project team is confident that the hospital will be seeing patients in October 2014."
There are several unique aspects to the construction components of the hospital, says Minard. For example, the hospital is on its own stand-alone water system for all domestic, irrigation and fire protection.
"There are two on site wells, connected to a treatment system that will supply all water for the site. In addition, the hospital has the capacity to hold three days of waste storage in the event of a natural disaster. This is currently a 2030 seismic requirement that Sutter Santa Rosa is completing with this hospital."
And to curb energy use, the hospital is installing a fuel cell that will generate up to 70 percent of the hospitals annual electrical needs.
"The fuel cell is technology that uses natural or biogas in an electro-chemical reaction to produce electricity, while significantly reducing the amount of greenhouse gases that are avoided due to the onsite electrical generation," he adds.
LEED Silver Targeted
At the start of the project, Sutter chose to register the project for LEED certification, but it was just recently that silver certification was established.
The project will incorporate several sustainability strategies, including a construction waste management program to recycle at least 75 percent of all construction and demolition waste, an advanced building management system to monitor and control humidity, air flow and exterior lighting, and efficient landscaping irrigation technology with bioswales and catch basis on site. The exterior design will have bike paths, carpool preferential parking and electric vehicle stations to encourage the reduction of auto emissions.
"Only as the hospital design has been completed was it possible to state that the hospital is attempting to attain LEED silver," adds Minard. "Until the U.S. Green Building Council reviews and approves all the points towards certification, the level of certification is not confirmed."