Ground Broken on St. John's Mercy Hospital Campus in Joplin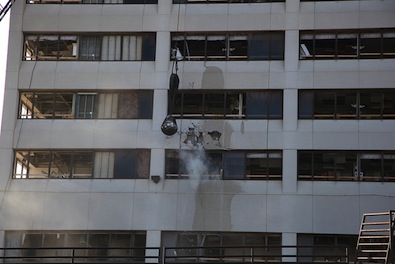 ST. LOUIS — McCarthy Building Co. broke ground on a new $335 million, 825,000-square-foot hospital in Joplin, Mo., to replace the former tornado-stricken facility.
St. John's Mercy Regional Medical Center was demolished in the May 22, 2011 EF-5 tornado — the deadliest tornado in the U.S. since 1947.
With St. Louis-based McCarthy Building Co. as construction manager, the new, larger hospital planned for development three miles south of the original facility will be built with 327 inpatient beds, with a planned expansion of up to 424 beds.
McCarthy is currently in the process of tearing down the existing hospital and surrounding medical office buildings, which includes five buildings across 47 acres, totaling 1.2 million square feet.
The new hospital is slated for completion in early 2015.
Digging Up History
While large buildings are usually torn down through implosion, old lead mines beneath the ground meant the construction company had to use a wrecking ball and specialized grappling equipment instead.
"Joplin traces its roots back to the early miners who settled here in the late 1800s," said Dan O'Connor, demolition project manager. "As is the case in many places throughout the city, those mines were filled in to make way for growth. While they can be made safe to build on, we don't want to take any chances that demolition charges and crashing debris could create an uplift pressure that might cause damage to surrounding properties."
During the cleanup process of the demolished facility, a Mercy hospital team searched the hospital to retrieve any keepsakes in good condition including bibles, artwork, memorial plaques, stained glass and marble.
In their search, the team discovered three time capsules from the property — one buried when the hospital was built in 1968, one when the east tower was completed in the 1980s, and one that marked St. John's 100th anniversary in 1996.
In addition to keepsakes, the construction team is working to take as little to the landfill as possible by recycling building materials including steel, aluminum and copper.
The mountains of concrete and asphalt – created from tearing down the buildings and pulling up parking lots – will be crushed into small pieces and used as engineered backfill to make the land ready for redevelopment.
Windows and pieces of plastic piping from the sprinkler system, meanwhile, have been saved to undergo testing to see how they weathered the storm.
Forging Ahead
The new facility will feature medical, surgical, critical care and labor delivery and recovery rooms, as well as behavioral health and rehabilitation departments.
"We are making this commitment because it's the right thing to do for Joplin," said Lynn Britton, president and CEO of Mercy, which includes 30 hospitals and more than 200 outpatient facilities in a seven-state area. "The May 22 tornado devastated our community in Joplin and destroyed our hospital, but we've promised all along we would rebuild."
McCarthy worked with the National Guard and volunteers after the tornado to set up a temporary 60-bed field hospital so that Mercy could re-establish medical services to the Joplin community as soon as possible.
The facility is still in use and will serve patients until spring 2012, when a more secure temporary solution — a modular "component hospital" — will take its place.
McCarthy has been working with Mercy planners to develop the replacement hospital since July 2011.
The project team included St. Louis-based Archimages and Dallas-based HKS as the design firms, with Phoenix-based Heideman & Associates serving as the MEP Engineer.
"It's hard to say goodbye to the building that has been St. John's since 1968," said Gary Pulsipher, president of St. John's Mercy. "But like the rest of the city, we are glad to be moving ahead and looking to the future. While we will never forget what happened here, taking down the hospital is another step in the process of removing the visible signs of the tornado's devastation from the landscape."