Reed Completes Surgery Center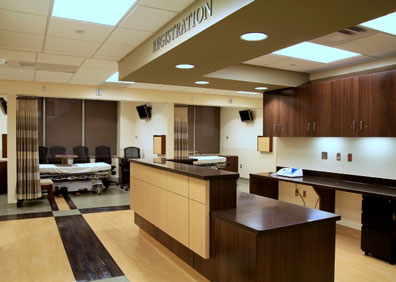 OAK PARK, Ill. — Reed Construction announced the completion of a $1.8 million, 10,000-square-foot build-out of the new Same Day Surgery Center within the Rush Oak Park Hospital in Oak Park outside Chicago.
The project began with the complete demolition of the existing administrative space followed by construction of the Same Day Surgery Center. The new center features 24 recovery bays, nursing stations, a support area and a newly renovated main lobby reception and information desk area. Reed Construction also installed extensive new MEP systems, sheet vinyl floors, solid surface countertops and extensive custom millwork throughout the space. New HVAC, plumbing, electrical, fire protection and medical gas systems were also built.
Reed officials say they took special precautions during construction to ensure patient safety and an uninterrupted working environment for the hospital's staff.
"The construction area at the Same Day Surgery Center was adjacent to a high-profile area and the main traffic pattern, said Reed's executive vice president Scott Pickands. "Located at the main entrance to the hospital and near the main elevator lobby, Reed Construction installed a series of containment barricades which were maintained for noise, dust and fire," he continued. "The construction area continuously monitored and maintained negative pressure and was held to the highest level of infectious control levels throughout the duration of the construction project,"
Pickands led the project team. Proteus Group provided the architectural and engineering services.
As a clinical partner of Rush University Medical Center, Rush Oak Park Hospital combines the convenience of a community hospital with the technology and expertise of a major university medical center.
The center was designed and constructed with the needs of patients and staff foremost in mind, a hospital official said.
"Our new Same Day Surgery Center at Rush Oak Park Hospital is designed to ease patient flow, streamline surgical care, and enhance the comfort and convenience for patients," said Jim Kaese of Rush Oak Park Hospital.
"The new space is larger than the previous suite and includes 24 individual patient bays allowing for increased privacy," Kaese said. "Additionally, each patient bay features a flat-screen television as well as modern and soothing aesthetics. The new design and state-of-the-art equipment also enhance the overall efficiency of the surgical staff and care employees."