Work Begins on Silver Cross Medical Building
New Lenox, Ill. — Medical patients that live in one of the fastest-growing regions of Illinois will have new options to choose from after officials from Silver Cross Hospital broke ground on a new Medical Services Building.
The 182,000-square-foot facility will play a key role in integrating inpatient and outpatient services at the $400 million, 289-baed, Silver Cross replacement hospital.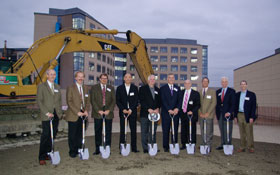 The new MSB will connect to the new hospital on three levels including the main lobby. It will share many of the hospital's amenities including concierge, outdoor serenity garden, valet parking and physician-dedicated parking. The new building will also be connected to an existing adjacent medical office building through a shared lobby. A Walgreen's pharmacy will operate within the new building.
NexCore Group, based in Denver, Colo., is the developer on the project, and Mortenson Construction Co. of Minneapolis is the builder.
"The new hospital campus is located in one of the fastest growing areas in Illinois, three miles from its current location," says Greg Warner, vice president of Mortenson Construction. "It will serve growing communities in Grundy, Will and southern Cook County for many years to come."
Warner said that construction of the replacement hospital is on schedule and the facility is slated to open in 2012. The new MSB is scheduled to open in the fourth quarter of 2011.