Turner Wins Children's Hospital Contract
COLUMBUS, Ohio — Construction has begun on a new $93 million research building located on Nationwide Children's Hospital's expanding campus. The project is scheduled for completion in 2012, when a 12-story, 460-bed main hospital also under construction on Nationwide's campus is expected to be finished.
The six-story, 225,000-square-foot research facility is being designed to LEED standards and will be built using Building Information Modeling by Turner Construction Company. Through the utilization of BIM, Turner will provide design visualization, construction coordination, 4-D schedule analysis, logistics analysis and progress tracking.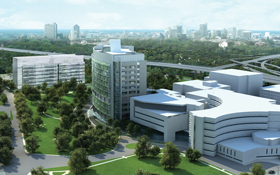 "The completion of Research Building III will significantly expand our capacity for leading-edge child health research," says Dr. John Barnard, president of The Research Institute at Nationwide Children's Hospital. "Among the areas of research emphasis to be located in the new facility are scientific programs related to prematurity and pediatric health disease."
The new facility will serve as an anchor to the westward campus expansion of Nationwide, which is in the midst of an $840 million strategic facilities expansion plan. The campus master plan will add more than 1 million square feet of clinical and research space to the existing 2 million-square-foot downtown campus when construction is completed in 2012.
In addition to the 750,000-square-foot hospital slated to open in 2012, Nationwide will add six acres of green space to its campus and a $75 million replacement green energy plant that will open this year.
The hospital will feature a new hematology/oncology/blood and marrow transplant unit; a floor for pediatric intensive care, cardiac intensive care and transplants; and an emergency department double the size of Nationwide's old facility. Turner Construction is building the 460-bed hospital. FKP Architects of Houston designed the hospital; and NBBJ's Columbus office designed the research facility.
The campus master plan is expected to create 2,000 additional jobs and make Nationwide Children's Hospital the second-largest pediatric hospital in the United States, according to hospital representatives.