Elgin Mental Health Center Offers High-Level Psychiatric Care
By Roxanne Squires
ELGIN, Ill. — Illinois inmates with serious mental illness will receive hospital-quality psychiatric care now that the Illinois Department of Corrections (IDOC) is renovating and expanding the Elgin Mental Health Center (EHMC), making it the first facility to offer such care to state inmates who have been formerly treated inside prison walls.
The IDOC reached a two-year agreement with the state-owned EMHC after an extensive search for a location to deliver hospital-level care. The gap in treatment for inmates whose condition goes beyond what can be managed by correctional staff was the last issue to be resolved in a nine-year federal lawsuit, initially filed by inmate Ashoor Rasho, following allegations of mentally ill inmates being left in solitary confinement and without access to proper care, according to The Pantagraph, a local news outlet.
The correctional overhaul will include a renovation of the 44-bed EMHC, designed by Chicago-based Primera, and an additional 244-bed residential treatment unit in Joliet for both male and female inmates. The first patients are expected at Elgin before the end of the year after about 100 employees are hired.
According to the National Alliance on Mental Illness (NAMI), 1.2 million individuals living with mental illness reside in jail and prison each year, and often their involvement with the criminal justice system begins with low-level offenses including jaywalking, disorderly conduct and trespassing.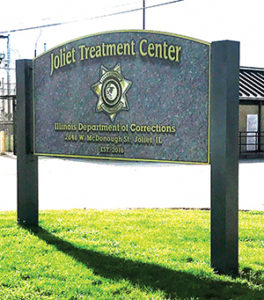 The EHMC warden, Dr. Catherine Larry, believes that designating the inmates as "patients" indicates the shift of focus to provide substantial treatment. IDOC hopes to ultimately deliver improved rehabilitation, consequently reducing the return of mentally ill inmates.
"Patients will receive a treatment plan that will follow them when they leave here. All is not lost when they are released," Larry said.
The remodeling of the EHMC will come with new security updates, suicide-resistant furnishing, i.e., beds with round modeled corners and brightly painted walls encouraging a "more healing" environment. Dr. Melvin Hinton, the IDOC chief of mental health and additional services, explained that "they are not rebuilding a system, but building one" for the 43,000-inmate correctional system, according to a statement.
"The Joliet Treatment Center (JTC) will provide a Residential Treatment Unit (RTU) level of care to its population," Hinton said. "This level of care applies to offenders whom, based on clear clinical evidence, have a serious mental illness associated with significant functional impairments rendering the offender unable to successfully reside in a non-specialized general population housing unit."
According to Hinton, an RTU level of care provides enhanced mental health treatment, with the JTC featuring a new security officer classification called correctional treatment officer (CTO). The CTO position requires an earned four-year degree in a relevant helping field and requires the CTO to be integrated into the offender's multidisciplinary treatment team. This is the first facility within the department to have this position.
Last year, NAMI Illinois trained and certified 150 IDOC staff that then trained the entire DOC staff of more than 11,500 in the NAMI Illinois mental illness awareness curriculum, according to NAMI'S website. Joliet will employ 60 mental health staff and 296 security staff, with employee training being provided through community partnerships and an internal, evidenced-based or informed training curriculum presented by IDOC's professional staff. This will help the facility bring qualified mental health workers to the team.
"JTC's level of care is an RTU, which is a lower level of care compared to an inpatient level of care. The IDOC is in the process of opening an inpatient level of care so that it is appropriately able to provide an inpatient level of care," Hinton said. "JTC's environment will be structured around the treatment needs of its residents, again with an enhanced treatment schedule and increased professional staff presence, including psychologist, social workers and psychiatric providers."
Hinton explained that IDOC looked at several other states, sister agencies, professional standard organizations and community partners during the developmental phase of JTC. JTC will become a part of a larger level-of-care system so that every offender within the IDOC system has appropriate and adequate access to care and treatment needed to assist in raising their overall level of functioning.
The total cost of staffing and construction is projected to reach approximately $90 million over several years while four more residential treatment centers are completed at the Pontiac, Logan and Dixon facilities, and a former youth center at Joliet. Therefore, inmates won't be limited to one location for access to treatment.
Alan Mills, one of the attorneys who represented inmates in the federal lawsuit prompting this renovation, said a recent tour of the Elgin facility left him feeling encouraged, according to The Pantagraph.
"Hospital care is what's been needed for a long time," Mills said in the article. "The two facilities that offer the option for inmates to transition from the hospital to lower-level care at Joliet before returning to prison will absolutely make a difference."
At the Joliet unit, patients with what Hinton refers to as "tall time," which has kept them behind bars for years, will be given the chance to attend classes tailored toward helping patients properly cope with their illness, as well as providing educational courses. They will also be required to make visits to the library, and a gym will be open for those who have earned recreational time.
Andrea Tack, a clinical social worker who worked as superintendent of the Winnebago County jail before she was hired as warden at Joliet, said helping residents make the transition to life in correctional facilities is part of the treatment plan. In some cases, improved behaviors may result in a reclassification to a lower security facility.
Two Behavioral Management Units will hold approximately 100 patients with significant mental health requirements. The secured rooms that house new arrivals will come with some privileges, while patients with improved behavior will have the chance to move within the self-contained unit, creating positive reinforcement.
"You move down the hall with the goal to move out to a less restrictive housing area," Hinton said.
Units located across the campus will provide housing to an additional 322 patients who also will receive less intensive care.
The EMHC and JTU will also be recording data, which will ultimately become valuable to the state in determining the results and efficiency of their new model in mental health care for inmates. In the case of Elgin, the state will be seeking a permanent solution to its need for hospital-level care when its agreement to use the 44 beds at the mental health center expires.
Ultimately, by investing in real diversion programs and services and ensuring continuity of care, NAMI believes that projects such as these can establish the first step in the right direction toward reducing the recidivism and incarceration rates of mentally ill individuals in our country.