Houston Health Care Development Booms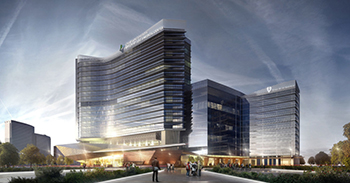 HOUSTON — Health care in Houston is in the midst of an expensive makeover. With a population simultaneously growing and aging, the city has put roughly $5 billion into medical construction and development this year, according to a recent report. Alongside new medical offices and hospitals being built, Houston's big health care institutions are updating and expanding into the suburbs.
Projects include:
Baylor St. Luke's Medical Center on McNair Campus is the priciest hospital underway, coming in at $1.1 billion. The hospital will hold 650 patient beds across its two-tower layout. New facilities for science and translation research, a medical office building and an ambulatory care complex will be included. Construction broke ground in April and it will be completed by 2019.
Memorial Hermann Medical Plaza 4 in The Woodlands will be the costliest medical office being built at $66.5 million. At 175,000 square feet, the six-story building will provide OB-GYN, cardiology, neuroscience, oncology and pediatrics services. It's set to be completed in February 2017.
"We have four office buildings, with this to be our fifth. We're doing our best to keep up with all the growth down here in Southern Montgomery County," said Memorial Hermann The Woodlands CEO Josh Urban at the office's groundbreaking ceremony in January.
Bay Area Regional Medical Center in Clear Lake is expanding its building by 140,000 square feet, costing $100 million. To better cater to its single-family market, the center will be adding another CT scanner and increasing its emergency department from 11 beds to 23 beds. The inpatient bed count will also increase, bringing the total from 104 to 200 beds. By the close of 2016, most of the construction will be completed. The last work to be done will be the fifth floor, entirely dedicated to women's services.
"In most of these service lines, there are a couple of drivers that go along with growth. That's the trigger point for why we're doing the women's center," said Paul McCleary, vice president of business development at Houston-based Medistar Corp., which owns the hospital in a statement. "It's impossible to be a community hospital and not provide those [women's services]."
Houston Methodist's 1 million-square-foot North Tower expansion will cost $697 million and hold nearly 400 inpatient beds. Operating rooms will be gutted and turned into suites. Advanced heart and neurosurgeon rooms will be added to the 22-story structure. Set on the Texas Medical Center campus, the project is estimated to wrap-up in November 2017.
Memorial Hermann Texas Medical Center will be 1.34 million square feet at $650 million with an expected completion date of March 2019.
Memorial Hermann Cypress is the second largest medical center at 165,000 square feet and $35.6 million. It is expected to be complete in August of this year. Already, Memorial Hermann has opened a 5,000-square-foot convenient care center in Cypress in February.
"The opening of our convenient care center in Cypress is the first step to giving the growing community the ability to receive specialty care close-to-home," said Dan Wolterman, president and CEO of Memorial Hermann Health System.