Kapio'lani Medical Center Breaks Ground on Hospital Tower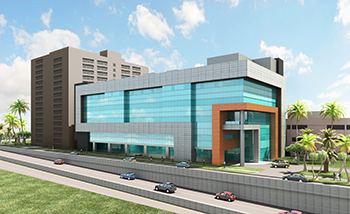 HONOLULU — The first building of the multiphase master plan for the Kapio'lani Medical Center for Women & Children (KMCWC) has officially begun construction. After seven years of planning, the $120 million hospital tower project broke ground Feb. 19 to house the medical center's new neonatal and pediatric intensive care units.
Situated on a 4.4-acre site, the new building will relieve overcrowding at the hospital and nearly quintuple the size of neonatal intensive care space from approximately 7,700 square feet to 36,600 square feet. The pediatric care unit will also triple in size and family education, living spaces and waiting areas, and an expanded play room will also be added. Overall, the neonatal and intensive care space at the new tower will add several private rooms and expand space from just 10,000 square feet to 50,000 square feet. The tower and master plan are led by HDR Inc, headquartered in Omaha, Neb.
While the building will hold great meaning to the medical center, which is in desperate need for additional and updated medical spaces, the design features symbolism derived from the Hawaiian culture and landscape, according to Jim Hohenstein, AIA, senior vice president at HDR Inc.
"Because much of the money to build the original Kapio'lani Maternity Hospital was raised through celebrations and luaus to create a link with the past, the new KMCWC was design to celebrate the natural features of the Aloha State and its people," Hohenstein said. "The use of indigenous Hawaiian materials is meant to lend a familiarity to the families and patient that will use the facility. The use of symbols and imagery will pay homage to the island's people, customs and traditions."
The rock, ocean and landscape are integral to the Hawaiian environment and serve as metaphors for birth, life and health, Hohenstein said. The design expounds on this metaphor through various design details and features.
"The overall folded plate of the building exterior represents a seashell and the protective environment it provides for the living form inside, much as the hospital will do for its patients," Hohenstein said. "The placing of the lei over a person's head is a traditional Hawaiian greeting, so all who enter the facility will receive this spirit of aloha. An open lei built of simulated wood panels surrounds the front door for all to pass through."
In undertaking the massive master plan, Hohenstein said he took away from the project the importance of remaining flexible and open-minded during the planning phases.
"This project took two major master planning efforts with numerous smaller iterations over a seven-year period before actual hospital construction took place," he said. "HDR remained flexible and open to new ideas whenever the client's criteria changed and we were therefore able to adjust a move with the punches. Locking in too early on master plan concepts and not being able to back off and take another look would have been detrimental."