PODCAST Part I: McCarthy Awarded for Innovative Building Approach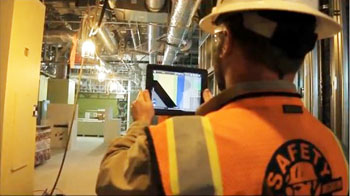 SAN ANTONIO — McCarthy Building Companies, Inc., the nation's eighth largest domestic general contractor and the largest in California, was awarded three Celebration of Engineering & Technology Innovation (CETI) Awards at Fiatech's annual Awards Gala in San Antonio in late March. It was the first time in CETI Awards history that a single company was honored with multiple awards in the same year.
The CETI Awards showcase companies and individuals who achieved success in implementing technology throughout the life cycle of a capital project. McCarthy was specifically recognized for innovations developed in-house and used on the Kaiser Permanente Oakland Medical Center replacement project in Oakland, Calif.
The three-phase project is currently in the second phase of construction, in which McCarthy is building a replacement hospital and specialty medical offices. The 12-floor, 349-bed hospital tower will house an emergency department, 12 inpatient operating rooms and eight labor and delivery rooms, among other facilities. Also part of the phase was a 1,219-stall parking garage, which opened in May 2011.
Phase I of the project included the new Broadway Medical Office Building and Cancer Center, which opened in May 2009, as well as an adjacent 524-stall parking garage. Phase III will include demolishing the existing hospital and replacing it with offices and additional parking spaces.
The three innovation categories awarded to McCarthy include:
• Life Cycle Data Management and Information Integration Category: McCarthy initiated an IFC/CoBie-based integrated workflow that captures and transfers data during construction so that the information can be used later by a hospital's maintenance and operations staff. The system can also work in accordance with a facilities management system.
• New Materials, Methods, Products and Equipment Category: The company's ability to seamlessly implement change orders and as-built information was also recognized. One example was highlighted in the structural survey and floor flatness program, in which McCarthy combined a Faro Focus 3-D laser scanner with customized internal software plug-ins to produce and analyze 3-D point cloud data. The gathered information can be used to document structural performance and to identify locations that required attention in order to achieve a precise quality of floor flatness. McCarthy's change management program allows all information to be synched in real-time, and the design team can use laser scans to perform retroactive inspections and future remodeling.
• Intelligent and Automated Construction Job Site Category: McCarthy's collaboration with BIManywhere software also earned it an award. The company found a way to use BIManywhere in the field by creating an application that allows any user to scan one of the QR codes correlated with a room or specific area of the hospital with an iPad or laptop. The scan then displays an augmented reality that overlays equipment documentation, construction plans and other project information on top of the current view.
Because of McCarthy's expertise and award-winning innovative approach to construction for the health care sector, HC+O News interviewed Jim Mynott, vice president of design management for McCarthy's Newport Beach-based Southern California office, and Chris Pechacek, director of virtual design and construction for the company's Northern Pacific division, based in its San Francisco office. In this first part of the two-part interview, Mynott and Pechacek discuss the building trends they are experiencing in the industry and how they are applying those trends in the field.