University of Texas Completes Revolutionary Dental Facility
HOUSTON
The University of Texas recently completed a major project, when it opened the doors of its new Health Science Center at the Houston School of Dentistry. The six-story, 296,00-square-foot facility is part of ongoing development at the Texas Medical Center, which already features a 153,000-square-foot Behavioral and Biomedical Sciences Building that opened in 2010. The new dentistry building includes actual dental clinics, simulation clinics, various research and clinical labs, classrooms and administrative offices. The structure is sensibly divided into three sections, with lower floors intended for public use and patient visits, while the middle floors are designed for student use, and the top floors are intended for faculty and staff. The flexible design will allow individual clinics to expand or contract based upon changing facility needs over time. This will allow the dental facility to complete as much dental marketing as they wish while still having the space to expand, should they decide to in the future.
Houston firm WHR Architects designed the $155 million project, with Colorado-based Hensel Phelps Construction Co. serving as the general contractor. The project took three years to complete, creating more than 1,700 jobs in the process. The companies also collaborated to create the 14,000-square-foot Denton A. Cooley, M.D. and Ralph C. Cooley, D.D.S. University Life Center and the previously mentioned science building.
Mary Le Johnson, a principal at WHR and the project manager for this structure, explained that this assignment fit particularly well into her firms portfolio, as it focuses about 80 percent of its efforts on health care facilities, with education/art and education/science/research being its other two main areas of specialization. David Watkins, founding principal and chair of the firms board, explained that these areas often converged in a single project. We do a lot of work for academic medical centers Mary Le, in particular, has developed a great track record in academic health facilities. Johnson added that this facility was particularly unique because it is an academic setting but actual patients are served on the bottom floors. Many of those who study at this location will go on to become a Dentist in Greene or elsewhere across the country, so it was important that this facility offers the best it can for the sake of their education.
The lower floors cover a wide spectrum of patient services, from basic exam rooms and clinics to advanced surgery facilities, allowing for specialized services like oral surgery, orthodontics and pediatric dentistry. There are also specific clinics for endodontics, (specialization in procedures around the base of the tooth, like root canals) prosthodontics (focusing on dentures and other forms of tooth replacement) and periodontics (areas involving the gums and related biology). There is a need for these sorts of clinics all over the country, particularly periodontics as there are many people who suffer from gum disease. And without receiving the relevant treatment from a professional, this could eventually lead to tooth loss. These clinics will benefit many people in the area, including the students of the University. Clinic and exam rooms were designed with maximum versatility in mind, so that different programs can expand and contract over time. The open-plan design added some challenges, as the architectural team had to carefully place wiring in strategic locations in the floor, as there were no walls in many areas to run wires through.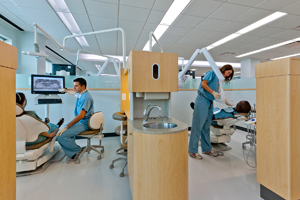 The simulation lab includes surgery mannequins and virtual patients for students to practice on, along with various multi-media technologies allowing them to observe procedures performed by others.
The simulation lab includes several technologies students can use to practice surgery, along with various multi-media tools allowing them to observe procedures performed by others.
The building will also feature a special needs clinic, which is relatively rare in an academic setting. The Fondren Foundation Special Patient Clinic will allow students to gain experience working with patients with a wide variety of needs that impact their dental care. From a design standpoint, the largest difference is that these clinics are built larger to accommodate wheelchairs and any other additional equipment needs.
The project employed several green techniques, which included maximizing daylight and minimizing heat gain through high-performance glazing on
windows and strategically placed shading devices. The addition of an outdoor courtyard with various plants has the dual purpose of being aesthetically
pleasing and helping to control runoff.
From a students perspective, the facility has more informal meeting space, study spaces, and locker rooms than in many academic buildings because the structure is not near the main campus, where many of these amenities would normally be consolidated.