HKS Hospitals Make "Top 20" List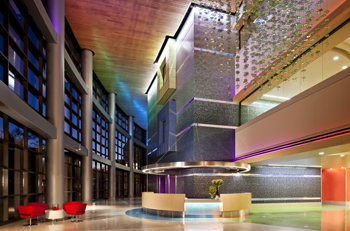 DALLAS — San Francisco-based HKS Architects have reason to celebrate, as four of the company's hospital designs have been named among the "20 Most Beautiful Hospitals in America," in an annual list by Soliant Health.
The fourth annual competition included 350 hospital nominations and brought a record of nearly 170,000 votes, more than double for 2011.
HKS had many projects on the list including the Miami Children's Hospital coming in fourth place, Health Central Hospital in Ocoee, Fla., at seventh place, the University Hospital Ahuja Medical Center in Beachwood, Ohio, in 12th place and the Phoenix Children's Hospital placed 20th on the list.
Jeff Stouffer, principal, academic and pediatric practice leader and principle-in-charge for the Phoenix Children's Hospital, feels that the Phoenix Children's Hospital was designed not as a hospital, but as retreat for healing.
"The goal of the project was to create a healing oasis for the children and families in Phoenix," said Stouffer.
The addition of the building includes a large tower with four floors of clinics and seven floors of inpatient beds. The existing hospital had used bold colors, so HKS carried that concept to the Phoenix Children's Hospital and brought all of the colors from the desert to the hospital, whether it was from plants or animals, or the surrounding environment.
"We were designing this for children of all ages, since most children's hospitals treat patients up to 18 and 21; and so our goal was not to be childish, but to be child-like and to respond to people of all ages," said Stouffer.
A statement piece within the hospital is housed within the atrium, and is a LED "waterfall" on a large concrete wall. Originally a real waterfall was to go there, but due to the possibility of diseases transferred through water, HKS created a waterfall of lights.
"We decided to create the feeling of a waterfall with LED lights, so we have LED lights behind acrylic panels, and they're full spectrum so they can be adjusted to any color. It just became what I call the 'Theatre of Lights,'" Stouffer said.
The Arizona-based Phoenix Children's Hospital is one of the 10 largest children's hospitals in the county and provides specialty and sub-specialty outpatient, inpatient, emergency and trauma care. The hospital offers 40 sub-specialty fields of pediatric medicine and has focused development on medical programs to build Centers of Excellence is neurosciences, cardiac services, neonatology, hematology/oncology, orthopaedics and level 1 trauma.
Each floor has a sculpture of a different animal to help with wayfinding. Rooms are all private rooms and have space for two family members to spend the night, along with space for laptops, Wi-Fi access, storage space and private bathrooms.
Construction was completed in 30 months, opening in 2011, with the clinics opening in January and inpatient rooms in the summer. The 800,000-square-foot project was delivered $48 million under budget due to economic factors as well as the HKS team reducing the overall cost and delivering the project under budget. In addition, the hospital was completed four months ahead of schedule with a total construction cost of $275 million.
HKS Delivers More Winning Designs
Among the list of winners was the Health Central Hospital in Ocoee, Fla. The hospital began in 1952 as the West Orange Memorial Hospital in Winter Garden, Fla., and served the community's maternity, surgical and general health care needs. In 1993, West Orange Memorial closed and re-emerged as Health Central Hospital in the new location of Ocoee, and now provides 440,000 square feet of space including a cardiac care unit, an inpatient and outpatient rehabilitation center, surgery center, pediatric care unit and more.
University Hospital Ahuja Medical Center (UHAMC) was also awarded recognition on the "Top 20" list for its design. Shannon Kraus, senior vice president at HKS Architects and lead designer for UHAMC believes that the hospital is certainly deserving of being on the prestigious list.
"We didn't aim to be the most beautiful facility, we aimed on creating a relaxing environment that helps disarm stress when you drive on to the site; something that connects you with nature and that promotes healing. And I think it's in that, that it became a beautiful facility," said Kraus.
The UHAMC came to the greater Cleveland, Ohio area to provide specialized medical and surgical services to the community. UHAMC was built in response to an aging population lacking convenient access to services such as inpatient, outpatient, and emergency services in the area.
Located near wetlands, building the facility proved to be an asset to HKS, not a challenge.
"We took a site that had a fair amount of wetlands on it and worked to not only protect the wetlands but we really embraced them as part of the natural feature of the project. And so we worked to balance function with form in a way that we can connect the public throughout the hospital with nature, to bring the outside in," said Kraus.
Overall, the project was one of great success in terms of design and construction, and the idea of patient healing was also achieved, according to Kraus.
"When you can balance function — integrating hospitality with health care — that's when you can really create places that help with healing, that help reduce stress and help improve outcomes," said Kraus.
The 375,000-square-foot hospital features a fertility center and specialized services in urology, orthopaedics, digital radiology, infectious disease and more. Construction lasted approximately three years and resulted in a 375,000-square-foot hospital with a 60,000-square-foot office building.