Designing for an Emerging Institution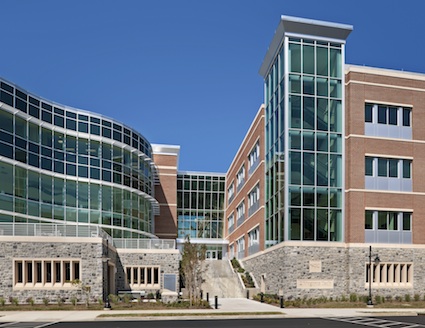 In 2004, Virginia Tech University and Carilion Clinic began discussions about creating a jointly operated medical school and research institute in Roanoke, Va., and in 2010 the new Virginia Tech Carilion (VTC) School of Medicine and Research Institute welcomed its first class. This partnership combined an established university with specialties in engineering and research with a local healthcare provider that had transformed into a clinic-based healthcare network. The intent to proceed with the project was announced in 2007, and, in August 2010, the new Virginia Tech Carilion (VTC) School of Medicine and Research Institute welcomed its first class.
Funded under the Public Private Education and Infrastructure Act, the project helps address a national shortage of research-competent physicians while increasing opportunities in medical research. AECOM provided full design services from early site studies to final construction documents; Skanska provided construction services; and Carilion Clinic acted as developer. Influencing the design were a variety of factors, including new methods of medical education as well as a need for flexibility to accommodate yet-to-be-identified research opportunities and methodologies.
Campus
The VTC School of Medicine and Research Institute is located at Riverside Center, a 33-acre campus one mile from downtown. The site, formerly considered an urban brownfield, once housed industrial and railroad yards. The City of Roanoke retained AECOM to develop a master plan for the redevelopment of the Riverside site and the South Jefferson Street corridor. The intent of the master plan was to extend the urban fabric of downtown to a blighted part of the city, while setting forth design guidelines to shape its future development.
The design style for Riverside draws upon the city's historic urban context, reinterpreted in a modern expression that emphasizes sustainability. Local brick is the dominant material, accented with precast concrete and metal panel. Building facades have large expanses of glass to maximize daylight and provide visual connections to the surrounding area. All campus buildings are required to meet LEED certification standards. Sustainable features employed include green roofs, drought resistant landscaping, occupancy sensors on light fixtures, and high-recycled content to many interior finishes and structural components.
The site's development began with a medical office building, followed by a 200,000-square-foot outpatient facility (Carilion Clinic) and a new parking structure. The clinic is modeled on a multi-specialty, patient-centered concept similar to that of Mayo Clinic. This delivery model strives to improve efficiency in patient care by reducing the time and number of doctor visits required for diagnosis and treatment. The clinic will provide the new medical school's students with a large patient base.
The School of Medicine and Research Institute is prominently located, overlooking the central campus' open space. A curved glass curtain wall on the Medical School is juxtaposed with a more restrained character in the Research Institute. Hokie Stone – the prominent material at Virginia Tech's main campus — is used at the foundation of the new building to reflect its connection to the institution.
Fast Track Process
An aggressive, 24-month schedule dictated a fast-track design and construction process. Working closely with Skanska, AECCOM issued the building design in phased packages to stay ahead of construction. Revit was utilized for the design documents, and was a starting point for a highly rendered fly-through used by the medical school in their accreditation process. With the assistance of the animation, the School of Medicine was awarded preliminary accreditation during construction.
A Patient-Centered Curriculum
Led by founding Dean Dr. Cynda Johnson, the School of Medicine uses a teaching method based on the current practice of physicians and medical professionals working collaboratively to deliver optimum patient care. The student is able to experience actual patient cases written by teams of healthcare professionals and scientists.
The overall program reflects a shared vision by the deans and senior educators and consists of:
•

Administrative suite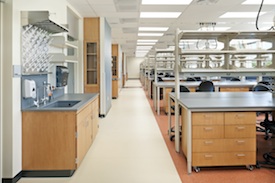 •

Objective structured clinical exam rooms (OSCE)
•

A medical library, café and large lecture halls shared with the Research Institute
Study carrels accommodate individual studies, while conference tables encourage group discussion and collaboration. Provi
ding wireless connectivity throughout was an obvious requirement. An emphasis was placed on supp
orting a balanced lifestyle and a variety of spaces help allow for more well-rounded student experiences.
Research Institute
The VTC Research Institute is a separate entity, connected to the School of Medicine by a three-story lobby and shared common spaces. The intent was to create a research facility that would have an emphasis on medical investigation, with the built-in flexibility to adapt to a variety of research missions. A second goal was to create a collaborative environment that encouraged an interdisciplinary approach to research.
The building organization places all laboratory spaces along the east side and the administrative area closer to the medical school. This helps maximize the available space within each hazardous control area and assisted with optimization of the mechanical design. Research areas are based on a repetitive module and incorporate moveable lab furniture to provide for flexibility. Research alcoves are adjacent to labs, and flexible procedure rooms are intended to be shared by researchers. Large windows allow an abundance of natural light to enter the labs, and a linear equipment room provides circulation between the research modules and the procedure rooms.
As construction progressed, VTC hired Dr. Michael Friedlander, Research Institute Executive Director, who brought a clear vision and attracted top researchers. During construction, modifications were made to accommodate specific researcher needs. One such modification was the addition of two 3.0T MRI's for human neuroimaging research in space originally intended for wet lab research. Other changes included modifications to support an electron microscope, confocal microscope, and specialized areas for an addiction research center.
Encouraging Collaboration
Integrated practice is a core aspect of contemporary medicine, and the vision of fostering collaboration guided the overall design of this facility. A variety in space type and scale accommodates informal discussions and impromptu gatherings. Areas such as the café, commons, green roof, outdoor terraces and enlarged stair landings within glass stair towers encourage the interaction of students, researchers and staff, and offer places to step away from the research bench or student work areas.
Conclusion
While the new VTC School of Medicine and Research Institute is still in its inaugural year, its design has received numerous positive comments from academic staff, students and the research community. The project already reflects the commitment of Virginia Tech and Carilion to give back to the communities they serve; the true measure of its success will be as students graduate, and new research discoveries that contribute to the medical field and society are made within the new institution.