Single Source Model Said to Eliminate Cost Overruns
It's no secret that the recession has had a major impact on virtually all segments of the construction industry, including the institutional market. But one property developer's model for hospitals, colleges and other institutions is proving to be especially cost-effective — a welcome relief in these tough times.
Scarborough Properties, which is based in Gibbsboro, N.J., developed a single-source model that essentially ensures that institutions are not on the hook for cost overruns.
"The budget set at the beginning is the total amount paid," explains Sean Scarborough, president of Scarborough Properties. "The model works because we understand the risk and create value for the institution by insulating it from cost overruns and unnecessary delays. A construction manager would not be financially liable until several months before construction started, long after decisions about budget and design had been made."
Founded in 1945, Scarborough Properties has developed and owned its own residential and commercial properties, working every element of the development process, marshalling design professionals, construction specialists and banks to build a project the company would own. The firm now owns a wide variety of income-producing properties, such as marinas, retail shopping centers, freestanding pad sites, and single-tenant office buildings.
"We approached (a) project as if we were going to own the building," recalls Scarborough. "We hire and supervise a professional team including land use lawyers, civil engineers, traffic engineers, architects and structural engineers.
Upon completing the land entitlement process, which typically takes twice the time of actual construction, he says the plans were sent to a variety of contractors for competitive bidding. Following selection of the contractors, Scarborough supervised all aspects of the construction process and simultaneously provided financial management and processed draw requests, lien releases, payment of real estate taxes and various financial reports. Upon completion of the construction, all occupancy permits were secured and the building was ready to go into service.

The single-source model appealed to Shore Memorial Hospital, also in Somers Point, which hired the firm in 2004 to build its cancer center.

Scarborough had contacted the hospital a number of years previous to see if it would consider selling a small piece of property adjacent to a property the hospital owned. Following that meeting, the hospital CEO invited Scarborough back to discuss ideas concerning aspirations for their entire campus.
"The concept grew into a master campus plan, including the development of a new cancer center, surgical pavilion and medical office," Scarborough says.
Construction began on a $125-million campus expansion in early 2009 with Scarborough overseeing all design, permitting and construction activities. Project improvements include a new hospital entrance, state-of-the-art operating and recovery rooms, a 130,000-square-foot surgical pavilion, 30,000-square-foot medical office building and 650-stall parking garage, connected via an elevated concourse across a public street.
"It will also house the entire Shore Memorial Surgical Services Department, including endoscopy services, cardiovascular imaging and all pre-admission testing services," says Bob Robertson, Shore Memorial's administrative director of logistics.
"The project was necessary to replace our current operating rooms, which were constructed in 1976 and in need of upgrades to improve efficiency," he says. "The new operating rooms will be capable of supporting the latest technology, as well as future surgical advances."
"The entire process [would normally] be ten years from the planning stage to completion," Scarborough says. "Actual construction will be approximately 30 months. The rest of the time was consumed by the entitlement process. At this time, the project is expected to be completed in the summer of 2011."
Performance-Based Approach
Scarborough performed its services under a "pay-for-performance" model where compensation is built around performance milestones. For example, a pre-set fee based upon the magnitude and scope of the project was set. The fee is earned as follows: 25 percent at the completion of submission of governmental approvals, 25 percent upon receipt of approvals, and the balance, 50 percent, earned over the course of construction.
Other benefits of this model include allowing the hospital CEO and top management to regularly sit in on meetings for unvarnished project updates.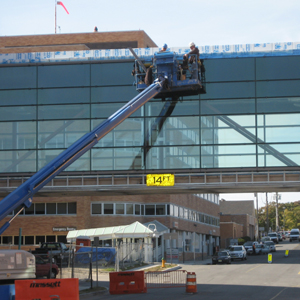 "The single-source model is an effective and efficient method of communication in that it eliminates multiple points of contact," says Robertson. "The hospital's main communication is with Scarborough Properties, and they in turn communicate with the contractor and subcontractors."
The single-source model has proven to be successful, Scarborough says, largely because the company manages the team of professionals from the outset. Global costs remain in the forefront of the decision-making process during approvals, design and construction.
"There are many trained competent professionals involved in delivering a complex real estate development project," says Scarborough. "They all serve a role, but none have global responsibility."
While some might point to the construction management model as an answer, Scarborough adds that it falls short in terms of managing a global budget.
"For instance, the construction manager is not responsible for the entitlement process or design — often under way for years prior to the ground breaking," he says.
Future of Model
It would appear that with so many positives pointing towards the single-source model, it would soon become commonplace. But Scarborough doesn't see this happening any time soon.
"There are few industry professionals that have the skill-set to replicate the model," he says. "The marketplace — architects, construction managers, attorneys and engineers — to name a few — consider it a disincentive to be controlled in the front end of the process by a professional developer. Too often they want to have control of the owner without financial risk."
In emphasizing this point, he says construction professionals often work on an hourly basis and expect to be paid whether or not the project is a success. Construction managers often operate on a cost-plus model.
As to why this model has not been thought of before, Scarborough says it is because real estate advisory and development services are often made on a consultancy basis and not a performance-based approach. Scarborough manages the process from the owner's perspective, just as it does for its own developments.
"The single-source model stands this concept on its head because our entire team works for Scarborough Properties, which is paid based upon performance."
Lisa Kopochinski is a freelance writer and can be reached at lisakop@sbcglobal.net.