Serenity Sliding Door Systems Boost Las Vegas Health Center
By HCO Staff
LAS VEGAS, Nevada—Serenity Sliding Door Systems provides an inside look at the 88 surface-mount systems featured in the newly constructed Dignity Health St. Rose Dominican facility.
Dignity Health St. Rose Dominican was completed in 2020 and is located in North Las Vegas, Nevada.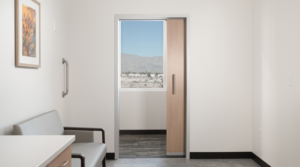 Dignity Health partnered with Serenity to complete one of the most beautiful and compelling projects Serenity has to date. Through representative and distribution efforts, Serenity successfully installed 88 surface-mounted sliding door systems to create this attractive high-functioning space. This project shows excellent examples of mindfully designed sliding doors integrated into a healthcare setting.
When it comes to Serenity's systems, there's not much you can't do in terms of customization and functionality. The systems selected for this project were comprised of a manufactured standard plastic laminate door. They needed to be configured to match existing swing doors for finish and size, provide acoustic and security aspects, and meet the overall aesthetic vision. Serenity also successfully integrated options for providing future access control and automatic operating.
Designing with sliding doors offers many benefits, including:
Increased Efficiency: Compared to a swing door, sliding doors save up to 30 square feet at every opening. By choosing to design with sliding doors, Serenity was able to alleviate hallway congestion with a streamlined path of travel and provide wider access points for hardworking staff. With no threshold required and no swing door to maneuver around, the space is made more efficient for all. Through Serenity's ability to provide a consistent and complete quality system, installation is made easy after a quick and painless quote process.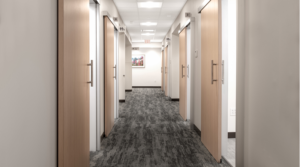 Smooth, clean aesthetics: On the space inside the nurse's station, note the overall alignment of the aesthetics, the flow of the area, and the cleanliness aspect. This was the goal looking to be achieved in this particular area. As part of this effort, Dignity requested clean-looking shrouded valances for the project. The shroud valance's purpose is to conceal the visible hardware of the sliding door end cap. This provides an aesthetically clean look compared to other valance options and serves as an easier-to-clean surface – particularly impactful for medical environments.
Privacy & Security:  Serenity's sliding doors also feature integral gasketing in the frame and an optional auto door bottom. These elements help to sound control the environment and provide privacy for patients. The auto door bottom is fully mortised within the bottom of the door and drops automatically when the door is closed to create a sound seal with STC 35 rating.
Like many other projects, Serenity provided doors where one side has locking and latching capabilities and the other does not. Serenity has access to many hardware manufacturers and can provide various functions to integrate with the system design, helping teams meet more specific hardware requirements.
Looking at the Dignity Health St. Rose Dominican project as a whole, we see a beautiful and efficient design. With overall space savings, strong product functionality, and consistent door matching, Serenity produces a better value turnkey door system that meets the demand and compliance for today's healthcare projects.
To see other applications from Serenity, explore system options, or get started with a quote for your project – visit our website! www.SerenitySlidingDoor.com
This article is designated as Branded Content and HCO News does not ensure the veracity or accuracy of the information included within.