Kansas Hospital Brings High-Level Wound Care Treatment to Patients
HUTCHINSON, Kan. — Hutchinson Regional Medical Center announced a new partnership with Sierra Madre, Calif.-based Wound Care Advantage (WCA) to run the Wound Care and Hyperbaric Center at the Kansas hospital. This will bring new technologies and greater operational efficiencies to its wound care facility.
The wound care program specializes in treating patients suffering from chronic non-healing wounds, typically brought on by conditions such as diabetes and arterial disease. With a five-year mortality rate of 68 percent for diabetics after limb amputation, it is critical to aggressively treat and heal problem wounds as quickly as possible. Treatment in a hyperbaric chamber surrounds a patient with oxygen at pressure levels three times higher than normal, allowing the lungs to inhale more oxygen and often help wounds heal much faster.
Wound Care and Hyperbaric Center at Hutchinson Regional Medical Center originally opened in 2006 to serve patients in Hutchinson and surrounding areas, including Central and Western Kansas, Eastern Colorado and Northwestern Oklahoma.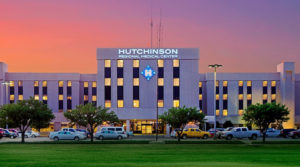 Another third-party company, Healogics Inc., of Jacksonville, Fla., has worked the center since 2012. According to a statement, WCA will take over the operation in the next few weeks after selecting a director for Hutchinson, said Sue Wray, director of communications at the hospital.
"Wound Care Advantage will bring a new level of clinical and analytical oversight and helpful resources to the team, improving workflow and allowing the treatment team to quickly evaluate how well a wound is responding to treatment. This helps determine whether additional services are needed such as hyperbaric oxygen therapy," said Patrick D. Rhodes, regional director of operations of WCA.
One of the most notable changes in the program will be invisible to patients, but very important to the clinical team and hospital, Rhodes described.
"There will be more staff training and constant availability of clinical experts, both on site and virtually, as well as daily monitoring of clinic volumes, healing percentages, operational efficiencies and Clinical Documentation Integrity (CDI). These changes are designed for better patient care as well as better fiscal performance for the hospital," said Rhodes.
Both Hutchinson Regional Medical Center and WCA also share a "patient first" philosophy and mission. Their commitment to employing the most effective treatment modalities and best technologies available will bolster the facility's ability to heal patients as quickly as possible. Though both organizations work to be fiscally responsible, they are committed to bringing the best possible outcomes to patients, first and foremost.
This new merge won't bring additional equipment, but will essentially adopt new technological systems to overhaul the delivery of high-level patient care.
"The Luvo suite of services replaces Hutchinson Regional Medical Center's hybrid paper record-keeping system with a comprehensive electronic documentation system. This allows for better, more accurate records, increasing workflow capabilities for clinic staff and reducing the time patients spend at the center. It also provides robust benchmarking and reporting," said Rhodes.
According to Rhodes, Luvo offers Luvo University, a web-based online learning management system available 24/7 to all clinic staff. A variety of courses are available on demand to educate clinicians and improve clinic flow and patient care. FlightPlan, a data-driven referral management system, integrates with Luvo to save time, increase efficiencies, generate referrals and provide tracking and accountability. Patient Happiness also tracks real-time information on patient satisfaction to the program director.
The overall goal of both Hutchinson Regional Medical Center and WCA is to bring convenient treatment access for patients in outlying rural areas through multiple services, including round-trip transportation and/or short-term housing at discounted rates, as well as telemedicine options.
"We're incredibly proud to partner with Hutchinson Regional Medical Center as they continue to strengthen their wound care program," said Mike Comer, CEO of Wound Care Advantage, in a statement. "Patients in rural outlying areas now have access to world-class treatment from an exceptionally talented team of physicians and nurses."