Part II: Project Legacy Features Patient-Centered Design for Veterans
By Barbara Wagner, DBIA, LEED AP
Part I of this article focuses on research and how it affects the impact on hospital design, especially facilities geared towards veterans. One such facility focusing on patient-centered design is the Southeast Louisiana Veterans Health Care System Replacement Medical Center, a VA medical center destroyed when Hurricane Katrina devastated New Orleans. Designed by national architectural firm NBBJ with two local New Orleans firms, Eskew+Dumez+Ripple and Rozas Ward Architects, the new four-story, 1.6 million-square-foot campus, dubbed Project Legacy, now serves more than 70,000 veterans in a 23-parish catchment area and across the Gulf Coast with an anticipated 550,000 annual visits.
Read on to see the other elements of the project that made it a success in achieving patiet-centered design for veterans.
Timing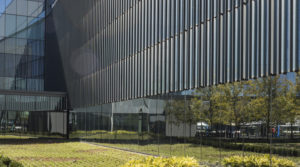 Planning for the project's successful delivery began during the pursuit process when Clark/McCarthy Healthcare Partners (CMHP), the joint venture that constructed the project, proposed a phased construction schedule. Turning over the project in segments allowed VA personnel more time to commission, activate and move into their new buildings. In 2014, the project's first building, the renovated and restored historic Pan-American Life Insurance building, was turned over to the VA for its administrative offices. The remaining eight buildings were turned over upon completion, the most recent being the diagnostic and treatment building in October 2016.
To maintain the client's target date for medical care, CMHP further phased construction to turn over critical portions of the facility before buildings were fully complete. The team turned over the main computer room in the diagnostic and treatment building 10 months before the remainder of the building to allow VA medical center personnel to expedite the installation and activation of much of the campus' technology infrastructure.
Construction Collaboration
The City of New Orleans and CMHP worked collaboratively on logistics, infrastructure planning, small business outreach and communications, which included working with the Louisiana Department of Transportation. Maximizing opportunities for small, local, disadvantaged, minority-owned and veteran-owned businesses was a CMHP priority throughout construction.
The team's phased approach allowed subcontracting packages to be divided into smaller scopes that were more manageable for small firms. A typical project of this size would have between 70 to 90 subcontractors; this effort had nearly three times as many. More than $230 million of contracts were awarded to small businesses. The contracting team further increased opportunity for local businesses by hosting two, six-part training sessions to help educate small businesses on federal contracting and construction best practices. Approximately 50 companies completed this CMU Building Blocks program. CMHP also followed up with hands-on construction training and setting up a mentorship program. The result is that local businesses not only understand procurement, but individual tradesmen have developed a trade in coordination with this job.
The Result
Project Legacy, as this medical center is nicknamed, broke ground in June 2010, began accepting outpatients in December 2016 and is opening in phases throughout 2017. This facility sets new standards for VA's patient-centered care, in a facility that honors veterans' service and reflects the culture of New Orleans. The campus includes 200 inpatient beds, 370 outpatient exam rooms, 21 procedural suites, ambulatory clinics, emergency and imaging departments, mental health services, patient education facilities, transitional living and outpatient rehabilitation, a central energy plant and two parking garages. The hospital also features a gymnasium, swimming pool, healing gardens, courtyards, and walking paths. The facility is designed to meet the full array of VA missions — education, research and national emergency preparedness and assistance.
Conclusion
By linking health care construction and design strategies with key desired outcomes, such as reduced health care–associated infections, fewer falls, increased energy savings, better patient satisfaction and increased market share, the discussion at the design table is no longer about the first costs of health care facility design or about meeting immediate facility space needs but about the role of the physical environment in supporting the mission of the organization in providing high-quality care. This is a positive trend that will affect the quality of health care facilities being built in the years to come.
Barbara Wagner is senior vice president with Clark Construction Group – California, based in Irvine, Calif.