How Lighting Can Boost Health During Hospital Renovations, Expansions
By Steve McGuire
In the fast-paced health care arena, which has experienced continued consolidation and expense reduction, the smart use of resources is a must for the nation's 11,000 community and American Hospital Association (AHA)-registered hospitals.
The good news is that outstanding opportunities to positively impact the bottom line often exist right in a hospital's own lighting system. With U.S. Department of Energy studies confirming that lighting costs account for as much as 30 percent or more of the average hospital's total energy expenses, upgrades involving high-performing, energy-efficient LED technology can be a quick and easy way to improve a hospital's lighting quality while significantly reducing operating costs.
Delivering Comprehensive Benefits
Hospitals, which operate round the clock, are particularly well positioned to benefit from LED upgrades. Highly efficient LEDs can reduce a hospital's lighting-related energy costs by as much as 50 percent or more and – as a function of their powerful coverage and bright, uniform lighting distribution – can enhance visibility and color quality while also helping to project a hospital's dedication to quality, cleanliness and professionalism. All of these traits can enhance a hospital's image as a comfortable, safe and patient-centric institution. At the same time, the long lifespan of LED technology helps reduce maintenance costs and concerns, freeing staff members to focus on matters of greater importance.
"As hospital [officials] continue to look for cost-saving measures, particularly those that can impact their energy bills, LED upgrades are a low-hanging fruit that can help achieve that objective," said Donna Craft, director of product planning for the Facility, Environmental Services and Construction division of Premier Inc., a national health care group purchasing organization (GPO) based in Charlotte, N.C., as well as a board member for the American Society for Healthcare Engineering (ASHE).
In addition to significantly reducing operating costs for a hospital upgrading from fluorescent, halogen, HID/metal halide or another older/more traditional lighting technology, said Craft, "…the color temperatures available with LEDs can help improve lighting quality and enhance the healing environment for patients as well as improve visibility and comfort for clinicians working long hours. LEDs can deliver benefits across the continuum of care."
As a result, Craft added, energy-related systems like lighting play significantly into a health care facility's daily operations as well as its patient environment, and are a large focus among health care executives today.
Boosting the Health of Hospitals
Consider the LED lighting upgrade recently undertaken at Baptist Health Associates, a 273-bed health care facility in Corbin, Ky. The hospital upgraded 675, 110-watt lighting fixtures – each housing three, 32-watt T8 fluorescent lamps and an electronic ballast – to Litetronics' 50-watt LED RetroFit Kits. The kits easily upgrade existing fluorescent systems to long-life, energy-saving LED technology in just minutes. As a result, the hospital saw its lighting energy consumption and costs reduced by half. Based on the facility's 8,730 annual hours of operation and the availability of more than $20,000 in product rebates from the local utility, the upgrade reduced the hospital's energy bills by nearly $30,000 annually. The project will pay itself back in just more than two years, enabling the hospital community to enjoy the benefits of LED technology for years to come. Many hospitals are opting to reduce their electricity consumption and their expenditure by improving the sustainability of their lighting. There are even some medical facilities that look around to purchase custom lighting fabrication options, as nice lighting paired with intricate lighting designs can help uplift the mood of the patients as well as the staff.
An LED upgrade currently underway at Boulder Community Health's Foothills Hospital Campus in Boulder, Colo., is driving a similar range of benefits. Replacing high-pressure sodium, metal halide and fluorescent lighting throughout interior corridors, underground and exterior parking garages, and utility/generator rooms with nearly 600 LED high-bay and linear fixtures from Litetronics is slated to deliver some $775,000 in energy and maintenance savings over the next decade. The project is expected to pay itself back in just more than two years.
With the elimination of mercury-containing fluorescent and HID lamps and ballasts, the upgrade will also reduce the hospital's carbon footprint and enhance sustainability. And thanks to Litetronics' patented system that enables the rapid installation of linear LED retrofits without breaking into the ceiling plenum, patient activities won't be significantly impacted. The hospital will further save labor costs on clean up and avoid costly measures related to infection control.
A Superior Solution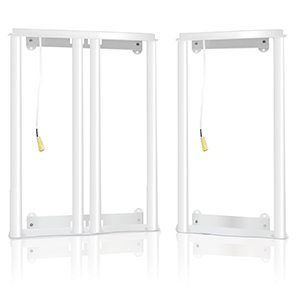 Baptist Health Associates and Boulder Community Health aren't alone. Craft confirmed that LED lighting upgrades have become extremely popular in hospital settings nationwide, particularly in garage and parking lot applications, patient rooms, corridors, surgical spaces and common areas.
"The fact is, health care institutions everywhere are all looking at lighting upgrades in some respect, and we've seen facilities engage in lighting upgrades at every level, from conversions involving 5 percent of a hospital's space to those involving 85 percent or more," said Craft.
In combination with the availability of utility rebates, which can help offset the up-front cost of energy-efficient lighting products, accelerate project payback periods and enhance ROIs, "there's no hospital out there today that's not considering LED lighting upgrades based on the comprehensive benefits they deliver," Craft said.
Working with a trusted lighting manufacturer and a qualified installer, LED upgrades can be conducted quickly and cleanly. This ensures minimal disruption to hospital operations while enhancing the comfort, safety, security and overall experience of all facility occupants. An investment in an LED upgrade can also help position a hospital as a leader in green and sustainable practices and provide years of maintenance-free operations.
Overall, based on size, hours of operation and known operating challenges, hospitals represent tremendous opportunities for energy-efficient lighting upgrades. The time is now to embrace the energy and cost savings, maintenance reductions and quality improvements that an LED upgrade can drive.
Steve McGuire is the vice president of sales at Litetronics, a Bedford Park, Ill.-based lighting manufacturer. He can be reached at smcguire@litetronics.com.