University of Rochester Medical Center Partners with Schneider Electric to Boost Power System Reliability
By Rachel Leber
ROCHESTER, N.Y. — The University of Rochester Medical Center (URMC) has partnered with Schneider Electric, an international company headquartered in France, to deploy "Asset Performance Services" (APS) on its medical school in Rochester. APS is intended to help the facilities management team to manage the performance of and offer insights to the status of the facility's electrical distribution equipment. The positive results and success from APS are the first step in what is now a long-term goal for URMC to apply this monitoring system to more of its campus facilities.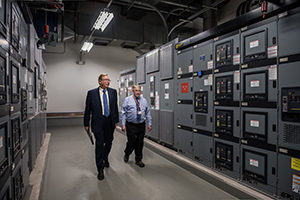 URMC sees 140,000 inpatients each year, and one million outpatients annually. The facilities management team is responsible for managing 5 million square feet of footprint across the medical center's campus, and has over 26,000 pieces of medical equipment to keep up with. Additionally, the facility has shifted to an entirely electronic data filing system and electronic medical records system over the years. All of these factors combined add up to a high power demand for the facility.
All of this and more led URMC seek the development of a completely digital and intelligent campus. "Even though emergency power generators are in place, the core electrical systems have to be reliable," said Mark Schwartz, director of facility operations at URMC. "When power goes out at this institution, even though we have emergency backup, it still makes people very nervous. It impacts surgeries and other cases that we may have going on," said Schwartz. The first step to mitigating this issue for the medical center was the implementation of this monitoring system through Schneider Electric in April 2015.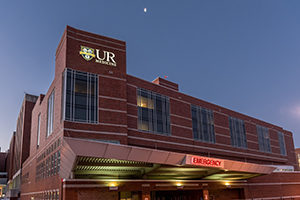 The architecture-based campus-wide monitoring solution applied by Schneider to URMC is called an "EcoStruxure Asset Advisor." This solution works by connecting and monitoring the medical center's electrical distribution assets via the Cloud. Event notifications keep facility staff up to date regarding electrical distribution system performance. When abnormalities in the system occur, recommendations are made to the staff with the proper steps to take in order to avoid and prevent system failures. This innovative digital approach overall monitors the heartbeat of the institution, cuts down on maintenance costs, improves power system reliability and relieves overburdened staff.
Since deployment of the EcoStruxture in 2015, this solution has produced a 20 to one return on investment for the medical center, according to Schwartz. Schneider's EcoStruxture enables the facilities team to be able to anticipate potential problems and better manage the monitoring of the high volume of equipment, which was previously impossible to keep up with. "In two incidences alone, we saved hundreds of thousands of dollars through early discovery of the problems," said Schwartz.
With the current success of the initial pilot program of the APS system on URMC as a baseline foundation, plans are currently underway to establish a facility-wide energy management and power quality system, starting with the Golisano Children's Hospital. Pending budget approval by University of Rochester management, the EcoStruxure Asset Advisor monitoring system is slated for installation at the Golisano Children's Hospital before the end of 2017.