Company Highlight: Kenall Illuminates Dallas' New Parkland Hospital
By Frank Gonzales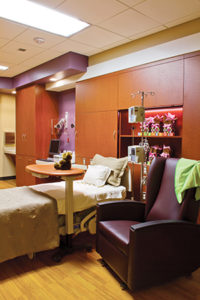 It has been said that everything is bigger in Texas, and Dallas' Parkland Hospital is no exception. Open to patients Aug. 20, 2015, the new hospital is intended to serve 30,000 people per day for the next 50 years. When construction started in 2008, it was the 10th largest medical construction project in the world, and the largest public health care project in the country built in a single phase. Today it is ranks as the 31st largest hospital in the United States. While working with this facility, Kenosha, Wis.-based Kenall LED Lighting and Controls was asked to provide a streamlined, ultra reliable lighting solution.
Parkland was designed by a joint venture of architectural firms HDR, based in Omaha, Neb., and Corgan, based in Dallas. Because of the facility's size and design parameters, sourcing consistent, reliable, energy-efficient lighting products that could be delivered on time and on budget was a very important piece of the Parkland puzzle.
"Our biggest challenge was the sheer scale of the project, so we wanted to keep the [lighting] design as simple as possible and be consistent throughout," said Jeffrey Hargens, an electrical engineer and lighting designer at HDR.
To keep maintenance and relamping simple, specifiers selected sealed MedMaster T5 luminaires for the 862 patient rooms. In addition, Kenall provided a combination of LED and fluorescent lighting fixtures for the corridors, surgical suites, MRI and imaging suites, bathrooms and workstations, including:
MedMaster Behavioral Health luminaires
Mighty Mac patient room luminaires
SimpleSeal corridor lighting
MedMaster exam lighting
MedMaster surgical suite lighting
Stratalume task lighting
CleanScene graphic panel luminaires for MRI and imaging suites
Auracyl wall sconces
MedMaster sealed downlights
MedMaster vanity lights
SoftStep Contour and MightyMac step lights
Lighted wayfinding and informational signage
The Parkland Hospital project was Kenall's largest single project to date — one awarded based on a reputation for consistency, quality and on-time delivery.
"This is a job that you can't have a manufacturer back out of or be late on: other suppliers had issues, but we never had any complaints with Kenall," Hargens said.
Despite its size, the Parkland Hospital project was delivered on budget and only four months behind schedule. The building was originally projected to be 1.68 million square feet in size, but eventually reached 2.8 million square feet and 17 stories tall.
As a result of innovations in many areas, including lighting, it is also environmentally friendly. The hospital was expected to achieve LEED Silver certification, but in June 2015 it was awarded LEED Gold certification by the USGBC.
Frank Gonzales is the director of product management at Kenall. He can be contacted at 262- 891-9700.