Design Team Receives Praise for New Denver Health Building
COLORADO SPRINGS, Colo. — RTA Architects teamed with Denver-based Hensel-Phelps Construction to create the largest community health center in the Denver Health system in a medically underserved area of the city.
Almost four months after its opening on April 18, the new Federico F. Peña Southwest Family Health Center hums with activity. Medical Director Dr. Michael Russum said, "The patients are really impressed with it — the newness, the grandness of some of the interior spaces. Many of them say that it looks much bigger inside than how it looks on the outside. I know our staff feels grateful to work in such a nice facility."
Several years ago, a community needs assessment revealed that the South Federal neighborhood of Denver suffered from a severe lack of health care resources and had one of the largest populations of uninsured and under-insured citizens in the city. This assessment led Denver Health to launch the design and planning of the new Federico Peña Southwest Family Health Center in 2014. Like the eight other Denver Health community health centers, the Peña Southwest Family Health Center offers a full range of primary care services and is the first urgent care outside of the main hospital campus.
According to Dr. Russum, all of the clinics with primary care have the goal of establishing a family doctor or primary care doctor to follow the patient and their extended family throughout their life. "That's the core of the medical home model," Dr. Russum said.
The Peña Southwest Family Health Center offers a full range of services including primary care, women's services (WIC), pediatrics, pharmacy, dental and vision care, laboratory, radiology, insurance enrollment and integrative behavioral health.
Denver Health searched for a team of designers for the clinic that aligned with their commitment to supporting the communities they serve. RTA Architects was chosen as architect of record because of the firm's client-centric principles and expertise in health care, education and community-based projects.
The design portion of the process began with an immersion phase in which the RTA design team shadowed current Denver Health staff at the Westside Community Health Center for several days in order to understand the clinic's processes and user needs. The design team also toured three other existing community health centers, including Montbello, Park Hill and Lowry. Next, the team held a weeklong Lean 3P (Production, Preparation, Process) event with RTA and a multi-disciplinary Denver Health team working together to rapidly create and test potential designs. Jessica Massie, interior designer at RTA, said, "Traditionally, we talk to user groups individually and then try to mesh together all of their needs and desires into a design. This time, all of the departments came together, and we were able to massage things to work congruently. Everyone saw what decisions were being made and why."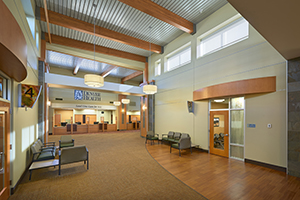 Design elements of the Peña Southwest Family Health Center include a large interactive children's play zone, expansive atriums and lobbies for large community gatherings, and a multi-purpose conference room, which can be used for patient, staff and community activities. Universal signage and intuitive wayfinding allows multilingual patients to easily navigate their way through the facility. With high-quality finishes and design touches such as warm wood, slate tiles, expansive skylights and vaulted ceilings, the Peña Southwest Family Health Center evokes a warm, inviting atmosphere for families. Departments that need to be most accessible to the community, like urgent care, pharmacy and dental services, are all located near the entrance of the building.
Kevin Gould, principal and project manager at RTA said, "The experience to assist the entire Denver Health team to deliver the ninth community health center has been remarkable. DHHA and RTA's values are closely aligned and allowed the team to achieve mutual goals; a clinic that serves individual patients, whole families and the entire community."
Project Team
Owner: Denver Health and Hospital Authority
Architects: RTA Architects, Colorado Springs, Colo.
General Contractor: Hensel-Phelps, Denver
Sue Rose is the owner of Sue Rose PR, and founder of Construction Writers Collaborative in Denver.