Lexington Medical Center Builds New Patient Care Tower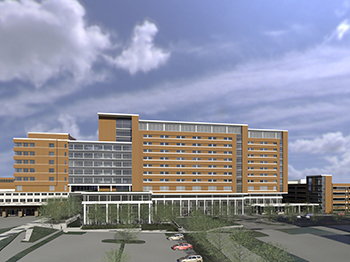 WEST COLUMBIA, S.C. — Lexington Medical Center is building a 545,000-square-foot, 10-story patient care tower constructed behind its existing north tower, making Lexington Medical Center the most modern hospital in South Carolina. Constructed by Birmingham-based Brasfield & Gorrie, the expansion will add 71 inpatient beds to the existing 414-bed hospital.
One of the busiest surgical hospitals in S.C., Lexington Medical Center performed more then 19,000 surgeries last year. Eight more operating rooms will be included, bringing the total to 31 operating rooms. An expanded surgical recovery area of 11,332 square feet will also be included to accommodate medical, critical care and surgical patients.
The Labor and Delivery and Mother/Baby departments — units that welcome more than 3,700 babies each year — will also be expanded. In the Special Care nursery, babies will have private rooms in order to provide more bonding opportunities for mothers and babies. Research has shown this leads to lower infection rates and more positive outcomes for the baby's growth.
"The hospital is woven into the fabric of Lexington County and the Midlands. This clinical expansion will allow us to take care of our community for many years to come," said Tod Augsburger, president & CEO of Lexington Medical Center, in a statement.
The pharmacy department, which services all inpatient needs and 60 physician practices and urgent care centers in the area, will be relocating from the oldest part of the hospital to the new patient tower in order to afford staff more space to work.
A central energy plant to support service needs of the tower is in the works, as is a new parking deck to add 950-plus parking spaces to the hospital's campus. Terrace Café will also be expanded, providing more dining options to staff, patients and visitors alike.
Another project, Lexington Medical Park 3, planned at 175,466 square feet, is already under construction for future physician offices and practices.
The $400 million project is expected to be complete in 2019.