Pearland Medical Center opens in Texas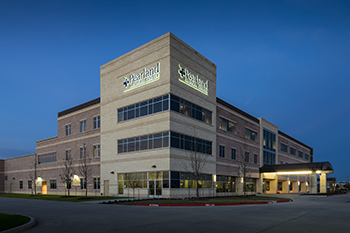 PEARLAND, Texas — The new Pearland Medical Center in Texas marked its official opening with a ribbon-cutting ceremony on Jan. 9.
The $71 million acute-care medical center, the first in Pearland, is located on a 48-acre site, and its 144,000 square feet houses 33patient beds. The medical center was built to expand patient services in Pearland and its surrounding communities. Hospital officials at Houston-based HCA Gulf Coast Division wanted to boost services in the obstetrical, surgical and cardiac areas.
The new medical center features new surgical suites, medical/surgical beds, intensive care beds and a 24-hour emergency department. It also includes imaging services such as magnetic resonance imaging, computerized tomography, a catheterization lab, echocardiogram testing and nuclear medicine modalities. A new women's services department provides digital mammography, labor and delivery suites, C-section operating rooms and a newborn nursery.
Nashville, Tenn.-based Gould Turner Group served as the project's architect and Skanska, based in Sweden, oversaw the construction.
"For many reasons, the ribbon-cutting will mark a major milestone for Pearland," said Kevin Fuller, chairman of the Pearland Medical Center Board of Trustees, in a statement. "Not only will Pearland Medical Center provide quality, life-saving services; it will create jobs and economic opportunities to benefit our residents."
Pearland is the fastest-growing community in the Houston area. The city's population was projected to increase from 91,252 in 2010 to 123,119 in 2020 and to 141,993 in 2035, according to the Houston-Galveston Area Council's 2013 Population and Employment Forecast. The medical center will employ about 250 full-time staff members and more than 150 physicians.
HCA-affiliated facilities in the Gulf Coast Division include 12 hospitals, eight ambulatory surgery centers, 14 diagnostic imaging facilities, eight off-campus emergency centers and a regional transfer center. The HCA Gulf Coast Division will be offering a regional transfer center that provides ground and air transportation to and from any other HCA Gulf Coast Division-affiliated hospital. That service includes transfers to specialized facilities such as Clear Lake Regional Medical Center in Webster, Texas; Houston-based Woman's Hospital of Texas; and Houston-based Texas Orthopedic Hospital.
HCA — the parent organization for HCA Gulf Coast — is striving for sustainability in Pearland, as well as its other facility currently being built: Alliance Hospital in Dallas, which is managed by HCA North Texas. Alliance Hospital in Dallas is a three-story, $71 million hospital that is expected to open in early 2015.
Both facilities will be seeking LEED Silver certification. Fixtures in both facilities will decrease water usage by 40 percent; 95percent of construction waste will be diverted away from landfills; and wood materials used to build both facilities will all be from certified sustainable resources.
"Hospitals are an essential part of a community. They help save and improve lives, but in order for them to keep operating and providing the services their community needs, hospitals require a lot of energy which can have negative impacts on the environment," said Greg Stein, HCA's VP of design and construction, in a statement.